Rat Anti-Mouse CD8α-APC/CY5.5 (53-6.7)
APC/CY5.5 Anti-Mouse CD8α antibody for use in flow cytometry assays.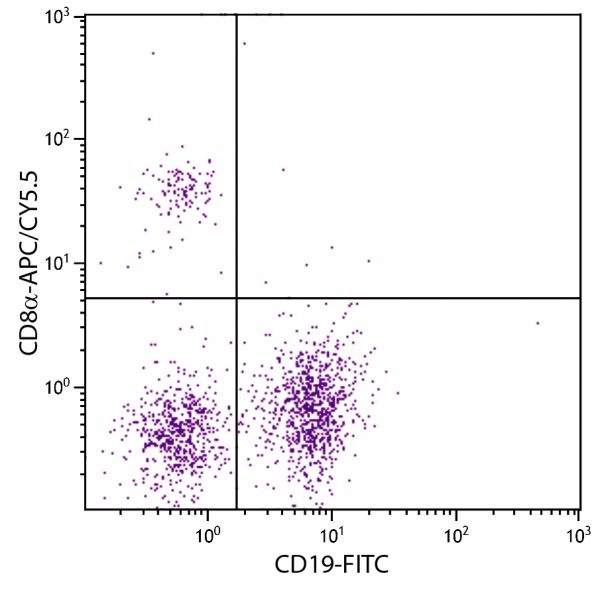 More Information
Clone
53-6.7
Isotype
Rat (LOU/Ws1/M) IgG2aκ
Isotype Control
Rat IgG2a-APC/CY5.5 (KLH/G2a-1-1)
Specificity
Mouse CD8α
Alternative Names
Ly-2, Lyt-2, Ly-35, Ly-B, T8
Description
In the mouse, CD8 exists in two forms – (i) a CD8 heterodimer composed of an α chain (CD8α) and a β chain (CD8β); and (ii) a homodimer of two α chains. The heterodimer is found on the surface of essentially all thymocytes and the "suppressor/cytotoxic" subpopulation of mature T lymphocytes. Subsets of intestinal intraepithelial lymphocytes express CD8α without CD8β. It has been suggested that CD8+β- T cells mature extrathymically, while development of the CD8α+β+ population of T cells is thymus-dependent. CD8 acts as a coreceptor with MHC Class I-restricted T cell receptors in antigen recognition and positive selection of MHC class I-restricted CD8+ T cells. In vivo and in vitro treatment with the 53-6.7 monoclonal antibody effectively depletes CD8α+ cells. The 53-6.7 monoclonal antibody also blocks allogeneic help specific for class I MHC antigens and T cell responses to IL-2.
Immunogen
Spleen cells or thymocyte membranes
Conjugate
APC/CY5.5 (Allophycocyanin/Cyanine 5.5)
Buffer Formulation
Phosphate buffered saline containing < 0.1% sodium azide and a stabilizer
Clonality
Monoclonal
Concentration
0.1 mg/mL
Volume
1.0 mL
Recommended Storage
2-8°C; Avoid exposure to light; Do not freeze
Trademark Information
Cy® is a registered trademark of Global Life Sciences Solutions Germany GmbH
Applications
Flow Cytometry – Quality tested 1,6,7,9-15
Immunohistochemistry-Frozen Sections – Reported in literature 2-5
Immunocytochemistry – Reported in literature 7
Immunoprecipitation – Reported in literature 1,6
Depletion – Reported in literature 8
Blocking – Reported in literature 6


RRID Number
AB_2794883
Gene ID
12525 (Mouse)

Gene ID Symbol
Cd8a (Mouse)

Gene ID Aliases
Ly-2; Ly-B; Ly-35; Lyt-2; BB154331
UniProt ID
P01731 (Mouse)

UniProt Name
CD8A_MOUSE (Mouse)

Documentation
---
Certificate of Analysis Lookup
Enter the Catalog Number and Lot Number for the Certificate of Analysis you wish to view
Need help with this product?
1. Ledbetter JA, Herzenberg LA. Xenogeneic monoclonal antibodies to mouse lymphoid differentiation antigens. Immunol Rev. 1979;47:63-90. (Immunogen, IP, FC)
2. Konno A, Takada K, Saegusa J, Takiguchi M. Presence of B7-2+ dendritic cells and expression of Th1 cytokines in the early development of sialodacryoadenitis in the IQI/Jic mouse model of primary Sjörgren's syndrome. Autoimmunity. 2003;36:247-54. (IHC-FS)
3. Delong P, Tanaka T, Kruklitis R, Henry AC, Kapoor V, Kaiser LR, et al. Use of cyclooxygenase-2 inhibition to enhance the efficacy of immunotherapy. Cancer Res. 2003;63:7845-52. (IHC-FS)
4. Wehling-Henricks M, Jordan MC, Gotoh T, Grody WW, Roos KP, Tidball JG. Arginine metabolism by macrophages promotes cardiac and muscle fibrosis in mdx muscular dystrophy. PloS One. 2010;5(5):e10763. (IHC-FS)
5. Kunikata N, Sano K, Honda M, Ishii K, Matsunaga J, Okuyama R, et al. Peritumoral CpG oligodeoxynucleotide treatment inhibits tumor growth and metastasis of B16F10 melanoma cells. J Invest Dermatol. 2004;123:395-402. (IHC-FS)
6. Ledbetter JA, Seaman WE, Tsu TT, Herzenberg LA. Lyt-2 and lyt-3 antigens are on two different polypeptide subunits linked by disulfide bonds. Relationship of subunits to T cell cytolytic activity. J Exp Med. 1981;153:1503-16. (IP, FC, Block)
7. Choi J, Oh S, Lee D, Oh HJ, Park JY, Lee SB, et al. Mst1-FoxO signaling protects naïve T lymphocytes from cellular oxidative stress in mice. PloS One. 2009;4(11):e8011. (FC, ICC)
8. Hathcock KS. T cell depletion by cytotoxic elimination. Curr Protoc Immunol. 1991;3:4.1. (Depletion)
9. Lagrota-Candido J, Vasconcellos R, Cavalcanti M, Bozza M, Savino W, Quirico-Santos T. Resolution of skeletal muscle inflammation in mdx dystrophic mouse is accompanied by increased immunoglobulin and interferon-γ production. Int J Exp Path. 2002;83:121-32. (FC)
10. Parmo-Cabañas M, García-Bernal D, García-Verdugo R, Kremer L, Márquez G, Teixidó J. Intracellular signaling required for CCL25-stimulated T cell adhesion mediated by the integrin α4β1. J Leukoc Biol. 2007;82:380-91. (FC)
11. Fink LN, Frøkiær H. Dendritic cells from Peyer's patches and mesenteric lymph nodes differ from spleen dendritic cells in their response to commensal gut bacteria. Scand J Immunol. 2008;68:270-9. (FC)
12. Jordan KR, Buhrman JD, Sprague J, Moore BL, Gao D, Kappler JW, et al. TCR hypervariable regions expressed by T cells that respond to effective tumor vaccines. Cancer Immunol Immunother. 2012;61:1627-38. (FC)
13. Elgbratt K, Jansson A, Hultgren-Hörnquist E. A quantitative study of the mechanisms behind thymic atrophy in Gαi2-deficient mice during colitis development. PLoS One. 2012;7(5):e36726. (FC)
14. Domingos-Pereira S, Decrausaz L, Derré L, Bobst M, Romero P, Schiller JT, et al. Intravaginal TLR agonists increase local vaccine-specific CD8 T cells and human papillomavirus-associated genital-tumor regression in mice. Mucosal Immunol. 2013;6:393-404. (FC)
15. Grodeland G, Mjaaland S, Roux KH, Fredriksen AB, Bogen B. DNA vaccine that targets hemagglutinin to MHC class II molecules rapidly induces antibody-mediated protection against influenza. J Immunol. 2013;191:3221-31. (FC)