Rat Anti-Mouse Lambda-PE (JC5-1)
Only %1 left
Cat. No.:
1175-09L,
1175-09
PE Anti-Mouse Lambda antibody for use in flow cytometry assays.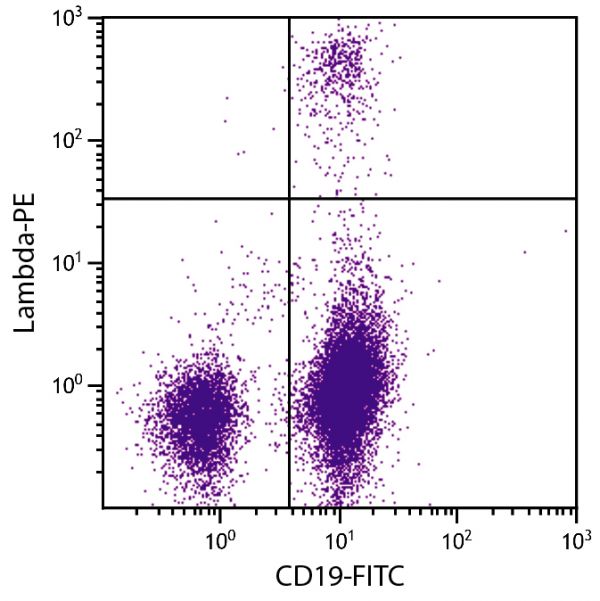 More Information
Clone
JC5-1
Isotype
Rat IgG2bκ
Isotype Control
Rat IgG2b-PE (KLH/G2b-1-2)
Specificity
Mouse Lambda
Conjugate
PE (R-phycoerythrin)
Buffer Formulation
Phosphate buffered saline containing < 0.1% sodium azide and a stabilizer
Clonality
Monoclonal
Concentration
0.1 mg/mL
Volume
1.0 mL or 2.0 mL
Recommended Storage
2-8°C; Avoid exposure to light; Do not freeze
Applications
Flow Cytometry – Quality tested 1-14
ELISA – Quality tested
FLISA – Quality tested
Immunohistochemistry-Frozen Sections – Reported in literature 15,16
Western Blot-Non-Reducing 18
Separation – Reported in literature 17


RRID Number
AB_2794675
Gene ID
111519 (Mouse)

Gene ID Symbol
Igl (Mouse)

Gene ID Aliases
Igl-x
Documentation
---
Certificate of Analysis Lookup
Enter the Catalog Number and Lot Number for the Certificate of Analysis you wish to view
Need help with this product?
1. Heltemes-Harris L, Liu X, Manser T. Progressive surface B cell antigen receptor down-regulation accompanies efficient development of antinuclear antigen B cells to mature, follicular phenotype. J Immunol. 2004;172:823-33. (FC)
2. Wang Y, Carter RH. CD19 regulates B cell maturation, proliferation, and positive selection in the FDC zone of murine splenic germinal centers. Immunity. 2005;22:749-61. (FC)
3. O'Neill SK, Shlomchik MJ, Glant TT, Cao Y, Doodes PD, Finnegan A. Antigen-specific B cells are required as APCs and autoantibody-producing cells for induction of severe autoimmune arthritis. J Immunol. 2005;174:3781-8. (FC)
4. Bai L, Chen Y, He Y, Dai X, Lin X, Wen R, et al. Phospholipase Cγ2 contributes to light-chain gene activation and receptor editing. Mol Cell Biol. 2007;27:5957-67. (FC)
5. Lindsley RC, Thomas M, Srivastava B, Allman D. Generation of peripheral B cells occurs via two spatially and temporally distinct pathways. Blood. 2007;109:2521-8. (FC)
6. Pathak S, Ma S, Trinh L, Lu R. A role for interferon regulatory factor 4 in receptor editing. Mol Cell Biol. 2008;28:2815-24. (FC)
7. Gross AJ, Lyandres JR, Panigrahi AK, Prak ET, DeFranco AL. Developmental acquisition of the Lyn-CD22-SHP-1 inhibitory pathway promotes B cell tolerance. J Immunol. 2009;182:5382-92. (FC)
8. Stumhofer JS, Tait ED, Quinn WJ 3rd, Hosken N, Spudy B, Goenka R, et al. A role for IL-27p28 as an antagonist of gp130-mediated signaling. Nat Immunol. 2010;11:1119-26. (FC)
9. Rayamajhi M, Delgado C, Condon TV, Riches DW, Lenz LL. Lung B cells promote early pathogen dissemination and hasten death from inhalation anthrax. Mucosal Immunol. 2012;5:444-54. (FC)
10. Andrews SF, Zhang Q, Lim S, Li L, Lee J, Zheng N, et al. Global analysis of B cell selection using an immunoglobulin light chain-mediated model of autoreactivity. J Exp Med. 2013;210:125-42. (FC)
11. Peng C, Eckhardt LA. Role of the Igh intronic enhancer Eμ in clonal selection at the pre-B to immature B cell transition. J Immunol. 2013;191:4399-411. (FC)
12. Nechanitzky R, Akbas D, Scherer S, Györy I, Hoyler T, Ramamoorthy S, et al. Transcription factor EBF1 is essential for the maintenance of B cell identity and prevention of alternative fates in committed cells. Nat Immunol. 2013;14:867-75. (FC)
13. Lee E, Liang Q, Ali H, Bayliss L, Beasley A, Bloomfield-Gerdes T, et al. Complete humanization of the mouse immunoglobulin loci enables efficient therapeutic antibody discovery. Nat Biotechnol. 2014;32:356-63. (FC)
14. Hu J, Oda SK, Shotts K, Donovan EE, Strauch P, Pujanauski LM, et al. Lysophosphatidic acid receptor 5 inhibits B cell antigen receptor signaling and antibody response. J Immunol. 2014;193:85-95. (FC)
15. Källberg E, Leanderson T. A subset of dendritic cells express joining chain (J-chain) protein. Immunology. 2008;123:590-9. (IHC-FS)
16. Swanson CL, Wilson TJ, Strauch P, Colonna M, Pelanda R, Torres RM. Type I IFN enhances follicular B cell contribution to the T cell-independent antibody response. J Exp Med. 2010;207:1485-1500. (IHC-FS)
17. Xiang Y, Garrard WT. The downstream transcriptional enhancer, Ed, positively regulates mouse Ig κ gene expression and somatic hypermutation. J Immunol. 2008;180:6725-32. (Sep)
18. SouthernBiotech unpublished data (WB-NR)