Rat Anti-Mouse Ly-6C-UNLB (HK1.4)
Purified Anti-Mouse Ly-6C antibody for use in flow cytometry, immunohistochemistry, and activation assays.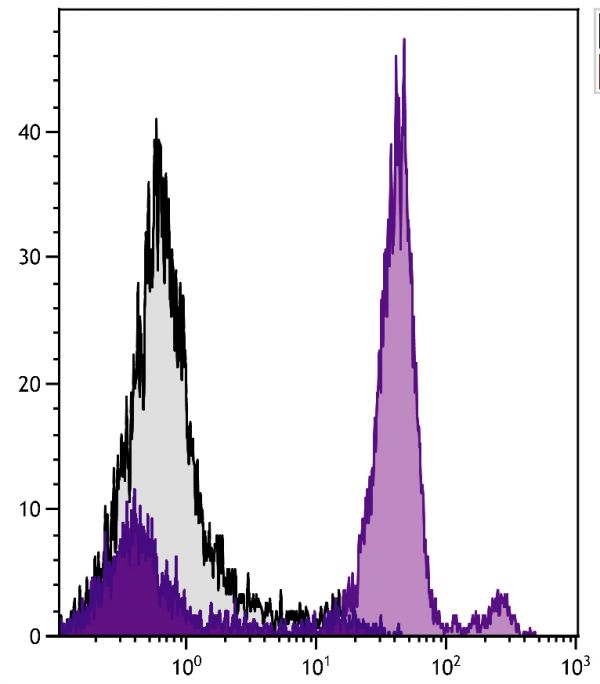 More Information
Clone
HK1.4
Isotype
Rat (Lewis) IgG2cκ
Isotype Control
Rat IgG2c-UNLB (SB68b)
Specificity
Mouse Ly-6C
Description
Ly-6C is a member of the Ly-6 multigene family of type V glycophosphatidylinositol-anchored cell surface proteins. It is expressed on bone marrow cells, monocytes/macrophages, neutrophils, endothelial cells, and T-cell subsets. Mice with the Ly-6.2 allotype (e.g., AKR, C57BL, C57BR, C57L, DBA/2, PL, SJL, SWR, 129) have subsets of CD4+Ly-6C+ and CD8+Ly-6C+ cells while Ly-6.1 strains (e.g., A, BALB/c, CBA, C3H/He, DBA/1, NZB) have only CD8+Ly-6C+ lymphocytes. Ly-6C may play a role in the development and maturation of lymphocytes.
Immunogen
L3 cloned CTL cells
Conjugate
UNLB (Unconjugated)
Buffer Formulation
Borate buffered saline, pH 8.2
Clonality
Monoclonal
Concentration
0.5 mg/mL
Volume
1.0 mL
Recommended Storage
2-8°C
Applications
Flow Cytometry – Quality tested 1-8
Immunohistochemistry-Frozen Sections – Reported in literature 2
Activation – Reported in literature 1


RRID Number
AB_2795255
Gene ID
17067 (Mouse)

Gene ID Symbol
Ly6c1 (Mouse)

Gene ID Aliases
AA682074; AA959465; Ly-6C; Ly-6C1; Ly6c
UniProt ID
P0CW02 (Mouse)

UniProt Name
LY6C1_MOUSE (Mouse)

Documentation
---
Certificate of Analysis Lookup
Enter the Catalog Number and Lot Number for the Certificate of Analysis you wish to view
Need help with this product?
1. Harvan WL, Lancki DW, Moldwin RL, Dialynas DP, Fitch FW. Characterization of an anti-Ly-6 monoclonal antibody which defines and activates cytolytic T lymphocytes. J Immunol. 1988;140:1034-42. (Immunogen, FC, Activ)
2. Flanagan K, Modrusan Z, Cornelius J, Chavali A, Kasman I, Komuves L, et al. Intestinal epithelial cell up-regulation of LY6 molecules during colitis results in enhanced chemokine secretion. J Immunol. 2008;180:3874-81. (FC, IHC-FS)
3. Chen CH, Grimbaldeston MA, Tsai M, Weissman IL, Galli SJ. Identification of mast cell progenitors in adult mice. Proc Natl Acad Sci USA. 2005;102:11408-13. (FC)
4. Chapatte L, Colombetti S, Cerottini J, Lévy F. Efficient induction of tumor antigen-specific CD8+ memory T cells by recombinant lentivectors. Cancer Res. 2006;66:1155-60. (FC)
5. Schröder J, Lüllmann-Rauch R, Himmerkus N, Pleines I, Nieswandt B, Orinska Z, et al. Deficiency of the tetraspanin CD63 associated with kidney pathology but normal lysosomal function. Mol Cell Biol. 2009;29:1083-94. (FC)
6. Sun Q, Jin H, Bond JS. Disruption of the meprin alpha and beta genes in mice alters homeostasis of monocytes and natural killer cells. Exp Hematol. 2009;37:346-56. (FC)
7. León B, del Hoyo GM, Parrillas V, Vargas HH, Sánchez-Mateos P, Longo N, et al. Dendritic cell differentiation potential of mouse monocytes: monocytes represent immediate precursors of CD8- and CD8+ splenic dendritic cells. Blood. 2004;103:2668-76. (FC)
8. Liu W, Xiao X, Demirci G, Madsen J, Li XC. Innate NK cells and macrophages recognize and reject allogeneic non-self in vivo via different mechanisms. J Immunol. 2012;188:2703-11. (FC)