Rat Type I Collagen-Solution
Purified Rat Type I Collagen solution for use as a coating material and standard.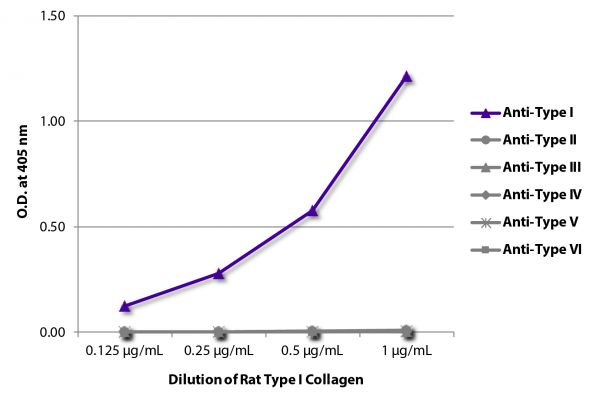 More Information
Description
Collagen is the main structural protein in the extracellular space and is the most abundant protein in the ECM. Collagens are divided into two classes - fibril (types I, II, III, V) and non-fibril (types IV, VI). Type I collagen is the most abundant collagen and is expressed in almost all connective tissues including skin, tendon, and bone tissue. It is also the predominant component of the interstitial matrix. Type I collagen mutations are associated in a range of diseases including osteogenesis imperfecta and Ehlers–Danlos syndrome. Type I collagen consists of two α1(I) chains and one α2(I) chain.
Source
Tail tendon
Purity
> 90% by SDS-PAGE
Purification Method
Selective salt precipitation
Buffer Formulation
500 mM acetic acid
Concentration
0.5 mg/mL
Volume
1.0 mL
Recommended Storage
2-8°C
Applications
ELISA – Quality tested
SDS-PAGE – Quality tested
Adhesion Studies – Reported in literature 1,2



Documentation
---
Certificate of Analysis Lookup
Enter the Catalog Number and Lot Number for the Certificate of Analysis you wish to view
Need help with this product?
1. Leonard CA. Microsporidia spore adherence and host cell infection in vitro [dissertation]. Johnson City (USA): East Tennessee State University; 2013. (Adhesion Studies)
2. Leonard CA, Hayman JR. Role of host cell integrins in the microsporidium Encephalitozoon intestinalis adherence and infection in vitro. FEMS Microbiol Lett. 2017;364:fnx169. (Adhesion Studies)