Goat F(ab')2 Anti-Human IgM-AF647
Goat F(ab')2 Anti-Human IgM-Alexa Fluor® 647 antibody for use in flow cytometry and immunocytochemistry assays.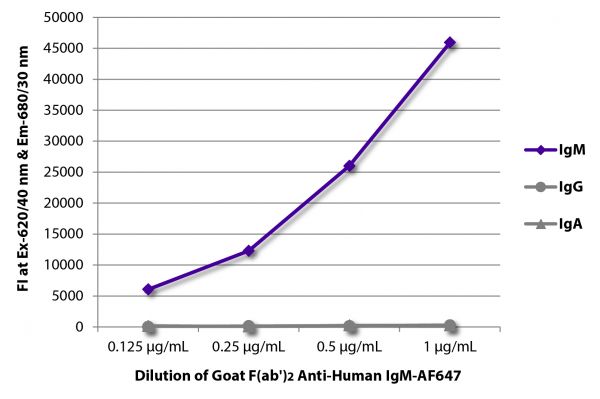 More Information
Isotype
Goat F(ab')2 IgG
Isotype Control
0110-31
Specificity
Reacts with the heavy chain of human IgM
Source
Pepsin digest of Goat Anti-Human IgM (SB Cat. No. 2020)
Cross Adsorption
Human IgG and IgA; may react with IgM from other species
Conjugate
AF647 (Alexa Fluor® 647)
Buffer Formulation
Phosphate buffered saline containing < 0.1% sodium azide
Clonality
Polyclonal
Concentration
0.5 mg/mL
Volume
1.0 mL
Recommended Storage
2-8°C; Avoid exposure to light
Trademark Information
Alexa Fluor® is a registered trademark of Thermo Fisher Scientific, Inc. or its subsidiaries
Applications
Quality tested applications for relevant formats include -
ELISA 1
FLISA
Flow Cytometry 3,4

Other referenced applications for relevant formats include -
Immunocytochemistry 15
ELISpot 2
Stimulation 5-14

RRID Number
AB_2795617
Gene ID
3507 (Human)

Gene ID Symbol
IGHM (Human)

Gene ID Aliases
AGM1; MU; VH
UniProt ID
P01871 (Human)

UniProt Name
IGHM_HUMAN (Human)

Documentation
---
Certificate of Analysis Lookup
Enter the Catalog Number and Lot Number for the Certificate of Analysis you wish to view
Need help with this product?
1. Suryani S, Fulcher DA, Santner-Nanan B, Nanan R, Wong M, Shaw PJ, et al. Differential expression of CD21 identifies developmentally and functionally distinct subsets of human transitional B cells. Blood. 2010;115:519-29. (ELISA)
2. Sira MM, Yoshida T, Takeuchi M, Kashiwayama Y, Futatani T, Kanegane H, et al. A novel immunoregulatory protein in human colostrum, syntenin-1, for promoting the development of IgA-producing cells from cord blood B cells. Int Immunol. 2009;21:1013-23. (ELISPOT)
3. White CA, Pone EJ, Lam T, Tat C, Hayama KL, Li G, et al. Histone deacetylase inhibitors upregulate B cell microRNAs that silence AID and Blimp-1 expression for epigenetic modulation of antibody and autoantibody responses. J Immunol. 2014;193:5933-50. (FC)
4. Westera L, van Hoeven V, Drylewicz J, Spierenburg G, van Velzen JF, de Boer RJ, et al. Lymphocyte maintenance during healthy aging requires no substantial alterations in cellular turnover. Aging Cell. 2015 Jan 28. doi: 10.1111/acel.12311. [Epub ahead of print]. (FC)
5. Petlickovski A, Laurenti L, Li X, Marietti S, Chiusolo P, Sica S, et al. Sustained signaling through the B-cell receptor induces Mcl-1 and promotes survival of chronic lymphocytic leukemia B cells. Blood. 2005;105:4820-7. (Stim)
6. Gobessi S, Laurenti L, Longo PG, Sica S, Leone G, Efremov DG. ZAP-70 enhances B-cell-receptor signaling despite absent or inefficient tyrosine kinase activation in chronic lymphocytic leukemia and lymphoma B cells. Blood. 2007;109:2032-9. (Stim)
7. Arechiga AF, Habib T, He Y, Zhang X, Zhang Z, Funk A, et al. Cutting edge: the PTPN22 allelic variant associated with autoimmunity impairs B cell signaling. J Immunol. 2009;182:3343-7. (Stim)
8. Chen K, Xu W, Wilson M, He B, Miller NW, Bengten E, et al. Immunoglobulin D enhances immune surveillance by activating antimicrobial, pro-inflammatory and B cell-stimulating programs in basophils. Nat Immunol. 2009;10:889-98. (Stim)
9. Suljagic M, Laurenti L, Tarnani M, Alam M, Malek SN, Efremov DG. Reduced expression of the tumor suppressor PHLPP1 enhances the antiapoptotic B-cell receptor signal in chronic lymphocytic leukemia B-cells. Leukemia. 2010;24:2063-71. (Stim)
10. Cheng S, Coffey G, Zhang XH, Shaknovich R, Song Z, Lu P, et al. SYK inhibition and response prediction in diffuse large B-cell lymphoma. Blood. 2011;118:6342-52. (Stim)
11. Saiya-Cork K, Collins R, Parkin B, Ouillette P, Kuizon E, Kujawski L, et al. A pathobiological role of the insulin receptor in chronic lymphocytic leukemia. Clin Cancer Res. 2011;17:2679-92. (Stim)
12. Rankin AL, Seth N, Keegan S, Andreyeva T, Cook TA, Edmonds J, et al. Selective inhibition of BTK prevents murine lupus and antibody-mediated glomerulonephritis. J Immunol. 2013;191:4540-50. (Stim)
13. Jackson LJ, Selva S, Niedzielko T, Vollmer T. B cell receptor recognition of glatiramer acetate is required for efficacy through antigen presentation and cytokine production. J Clin Cell Immunol. 2014;5:185. (Stim)
14. Macmillan H, Strohman MJ, Ayyangar S, Jiang W, Rajasekaran N, Spura A, et al. The MHC class II cofactor HLA-DM interacts with Ig in B cells. J Immunol. 2014;193:2641-50. (Stim)
15. Lloyd KA, Wang J, Urban BC, Czajkowsky DM, Pleass RJ. Glycan-independent binding and internalization of human IgM to FCMR, its cognate cellular receptor. Sci Rep. 2017;7:42989. (ICC)