Hamster Anti-Mouse CD3ε-UNLB (500-A2)
Purified Anti-Mouse CD3 epsilon antibody for use in flow cytometry, immunohistochemistry, immunoprecipitation, and activation assays.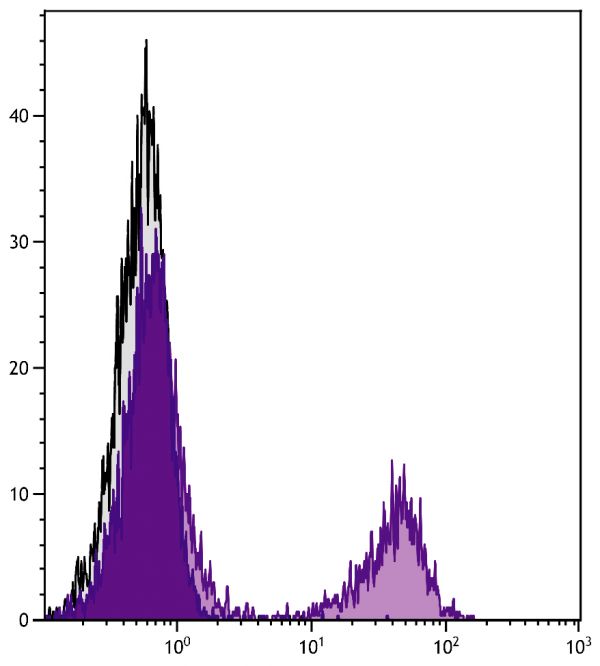 More Information
Clone
500-A2
Isotype
Hamster (Syrian) IgG2
Isotype Control
Hamster IgG-UNLB
Specificity
Mouse CD3ε
Alternative Names
CD3 epsilon
Description
CD3ε, a member of the immunoglobulin superfamily of cell surface receptors, is comprised of five invariable chains ranging in size from 16-28 kDa and is closely associated with the T cell antigen receptor (TCR). CD3ε is expressed on all T cells of all mouse strains. CD3 plays a major role in signaling during antigen recognition, leading to T-cell activation. 500-A2 recognizes an epitope on the 25 kDa ε chain of the CD3/TCR complex of mouse strains tested.
Immunogen
Immune complexes isolated from C6VL-BS thymoma cells
Conjugate
UNLB (Unconjugated)
Buffer Formulation
Borate buffered saline, pH 8.2
Clonality
Monoclonal
Concentration
0.5 mg/mL
Volume
1.0 mL
Recommended Storage
2-8°C
Applications
Flow Cytometry – Quality tested 1
Immunohistochemistry-Frozen Sections – Reported in literature 3
Immunoprecipitation – Reported in literature 1
Activation – Reported in literature 1,2,4


RRID Number
AB_2794809
Gene ID
12501 (Mouse)

Gene ID Symbol
Cd3e (Mouse)

Gene ID Aliases
AI504783; CD3; CD3epsilon; T3e
UniProt ID
P22646 (Mouse)

UniProt Name
CD3E_MOUSE (Mouse)

Documentation
---
Certificate of Analysis Lookup
Enter the Catalog Number and Lot Number for the Certificate of Analysis you wish to view
Need help with this product?
1. Allison JP, Havran WL, Poenie M, Kimura J, DeGraffenreid L, Ajami M, et al. Expression and function of CD3 on murine thymocytes. In: Davis MM, Kappler J, editors. The T-Cell Receptor, UCLA Symposia, 73rd Edition. New York: Alan R. Liss; 1988. p.33-45. (Immunogen, FC, IP, Activ)
2. Swallow MM, Wallin JJ, Sha WC. B7h, a novel costimulatory homolog of B7.1 and B7.2, is induced by TNFα. Immunity. 1999;11:423-32. (Activ)
3. Hörnquist CE, Lu X, Rogers-Fani PM, Rudolph U, Shappell S, Birnbaumer L, et al. Gαi2-deficient mice with colitis exhibit a local increase in memory CD4+ T cells and proinflammatory Th1-type cytokines. J Immunol. 1997;158:1068-77. (IHC-FS)
4. Portoles P, Rojo J, Golby A, Bonneville M, Gromkowski S, Greenbaum L, et al. Monoclonal antibodies to murine CD3ε define distinct epitopes one of which may interact with CD4 during T cell activation. J Immunol. 1989;142:4169-75. (Activ)