Hamster Anti-Mouse CD81-BIOT (2F7)
Biotin Anti-Mouse CD81 antibody for use in flow cytometry, immunohistochemistry / immunocytochemistry, and immunoprecipitation assays.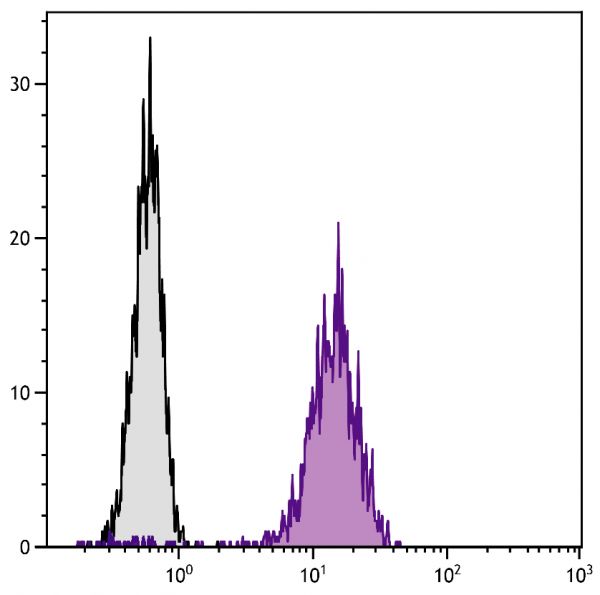 More Information
Clone
2F7
Isotype
Hamster (Armenian) IgG3
Isotype Control
Hamster IgG-BIOT
Specificity
Mouse CD81
Alternative Names
TAPA-1
Description
CD81, also known as TAPA-1, is an integral membrane protein expressed on a variety of cell types and has a high degree of sequence homology between human and mouse. CD81 is expressed on thymic stromal cells where it plays an important role in the transition of γδ+ T cells to more mature T cells with αβ T cell receptors. Immunohistochemical staining has revealed that its expression is localized to the subcapsular region of the thymus and, specifically, on cells that have distinct clustering patterns. It has been speculated that the ligand for CD81 is the pre-T cell receptor which is composed of a TCR β chain and glycoprotein pTα. The monoclonal antibody 2F7 can block thymocyte interaction with CD81 in vitro.
Immunogen
Mouse epithelial cell line PAM212
Conjugate
BIOT (Biotin)
Buffer Formulation
Phosphate buffered saline containing < 0.1% sodium azide
Clonality
Monoclonal
Concentration
0.5 mg/mL
Volume
1.0 mL
Recommended Storage
2-8°C
Applications
Flow Cytometry – Quality tested 1,3
Immunohistochemistry –Reported in literature 1
Immunocytochemistry – Reported in literature 5
Immunoprecipitation – Reported in literature 1
Blocking – Reported in literature 1-4
Costimulation – Reported in literature 2


RRID Number
AB_2795400
Gene ID
12520 (Mouse)

Gene ID Symbol
Cd81 (Mouse)

Gene ID Aliases
Tapa-1; Tapa1; Tspan28
UniProt ID
P35762 (Mouse)

UniProt Name
CD81_MOUSE (Mouse)

Documentation
---
Certificate of Analysis Lookup
Enter the Catalog Number and Lot Number for the Certificate of Analysis you wish to view
Need help with this product?
1. Boismenu R, Rhein M, Fischer WH, Havran WL. A role for CD81 in early T cell development. Science. 1996;271:198-200. (Immunogen, FC, IP, IHC, Block)
2. Takeda Y, He P, Tachibana I, Zhou B, Miyado K, Kaneko H, et al. Double deficiency of tetraspanins CD9 and CD81 alters cell motility and protease production of macrophages and causes chronic obstructive pulmonary disease-like phenotype in mice. J Biol Chem. 2008;283:26089-97. (Block, Costim)
3. Tachibana I, Hemler ME. Role of transmembrane 4 superfamily (TM4SF) proteins CD9 and CD81 in muscle cell fusion and myotube maintenance. J Cell Biol. 1999;146:893-904. (FC, Block)
4. Chang Y, Finnemann SC. Tetraspanin CD81 is required for the αvβ5-integrin-dependent particle-binding step of RPE phagocytosis. J Cell Sci. 2007;120:3053-63. (Block)
5. Kelić S, Levy S, Suarez C, Weinstein DE. CD81 regulates neuron-induced astrocyte cell-cycle exit. Mol Cell Neurosci. 2001;17:551-60. (ICC)