Mouse Anti-Chicken Ia-BIOT (CIa)
Biotin Anti-Chicken Ia antibody for use in flow cytometry, immunohistochemistry / immunocytochemistry, and immunoprecipitation assays.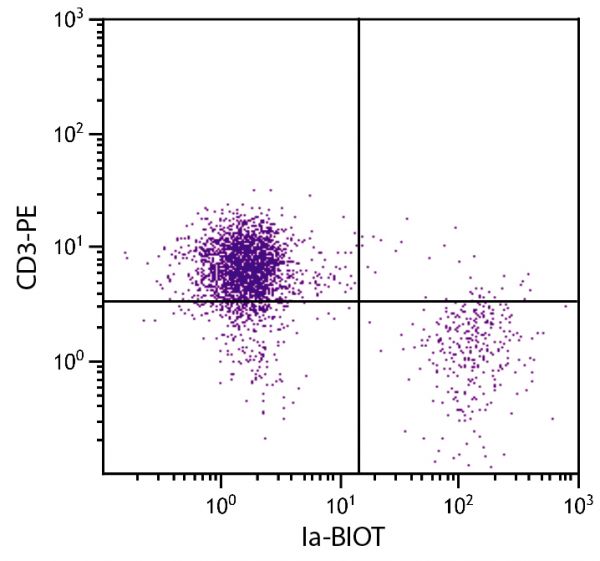 More Information
Clone
CIa
Isotype
Mouse (BALB/c) IgMκ
Isotype Control
Mouse IgM-BIOT (11E10)
Specificity
Chicken/Quail/Dove/Pigeon/Duck Ia
Alternative Names
MHC Class II
Description
The chicken Ia antigen is expressed on B cells, a subpopulation of the monocyte/macrophage lineage of cells, and mitogen-activated T cells. The molecule recognized by this antibody is similar in structure to the murine Ia antigens and human DR antigens.
Immunogen
Splenic leukocytes from an outbred nine-week-old chicken
Conjugate
BIOT (Biotin)
Buffer Formulation
Phosphate buffered saline containing < 0.1% sodium azide
Clonality
Monoclonal
Concentration
0.5 mg/mL
Volume
1.0 mL
Recommended Storage
2-8°C
Applications
Flow Cytometry – Quality tested 1,7,9,10
Immunohistochemistry-Frozen Sections – Reported in literature 2-6
Immunocytochemistry – Reported in literature 1,7,8
Immunoprecipitation – Reported in literature 1
Blocking – Reported in literature 1


RRID Number
AB_2796484
Documentation
---
Certificate of Analysis Lookup
Enter the Catalog Number and Lot Number for the Certificate of Analysis you wish to view
Need help with this product?
1. Ewert DL, Munchus MS, Chen CH, Cooper MD. Analysis of structural properties and cellular distribution of avian Ia antigen by using monoclonal antibody to monomorphic determinants. J Immunol. 1984;132:2524-30. (Immunogen, FC, ICC, IP, Block, Quail, Dove, Pigeon, & Duck Reactivity)
2. Wang X, Efr GF. Apoptosis in feathers of Smyth line chickens with autoimmune vitiligo. J Autoimmun. 2004;22:21-30. (IHC-FS)
3. O'Halloran EK, Oesterle EC. Characterization of leukocyte subtypes in chicken inner ear sensory epithelia. J Comp Neurol. 2004;475:340-60. (IHC-FS)
4. Das SC, Nagasaka N, Yoshimura Y. Changes in the localization of antigen presenting cells and T cells in the utero-vaginal junction after repeated artificial insemination in laying hens. J Reprod Dev. 2005;51:683-7. (IHC-FS)
5. Subedi K, Yoshimura Y. Expression of MHC class I and II in growing ovarian follicles of young and old laying hens, Gallus domesticus. J Poult Sci. 2005;42:101-9. (IHC-FS)
6. Yoshimura Y, Fukui T, Nishibori M, Isobe N. Effects of age and gonadal steroids on the localization of antigen presenting cells in the epididymis of the male chicken, Gallus domesticus. J Reprod Dev. 2006;52:363-71. (IHC-FS)
7. Bakri Y, Sarrazin S, Mayer UP, Tillmanns S, Nerlov C, Boned A, et al. Balance of MafB and PU.1 specifies alternative macrophage or dendritic cell fate. Blood. 2005;105:2707-16. (FC, ICC)
8. Niikura M, Kim T, Hunt HD, Burnside J, Morgan RW, Dodgson JB, et al. Marek's disease virus up-regulates major histocompatibility complex class II cell surface expression in infected cells. Virology. 2007;359:212-9. (ICC)
9. Rautenschlein S, Subramanian A, Sharma JM. Bioactivities of a tumour necrosis-like factor released by chicken macrophages. Dev Comp Immunol. 1999;23:629-40. (FC)
10. Chrząstek K, Piasecki T, Wieliczko A. Impact of CpG oligodeoxynucleotide stimulation on percentage of T and B cells in chicken. Pol J Vet Sci. 2013;16:551-4. (FC)