Mouse Anti-Feline CD5-BIOT (f43)
Biotin Anti-Feline CD5 antibody for use in flow cytometry, immunohistochemistry, ELISA, and immunoprecipitation assays.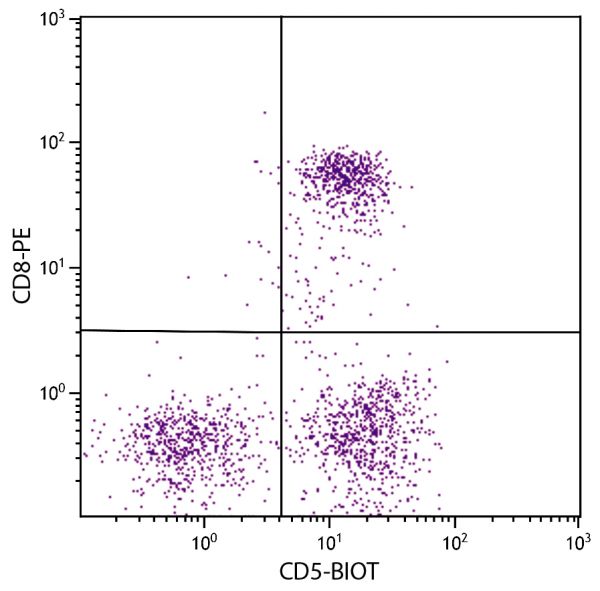 More Information
Clone
f43
Isotype
Mouse IgG1κ
Isotype Control
Mouse IgG1-BIOT (15H6)
Specificity
Feline/Lion CD5
Alternative Names
fCD5, Pan T cell
Description
Feline CD5, a member of the scavenger receptor family of cell surface receptors, is a type I transmembrane glycoprotein that is expressed on most thymocytes and mature T lymphocytes. CD5 is thought to function in both cell-cell recognition and signal transduction. The monoclonal antibody f43 is useful as a pan T cell marker.
Immunogen
Feline T cells
Conjugate
BIOT (Biotin)
Buffer Formulation
Phosphate buffered saline containing < 0.1% sodium azide
Clonality
Monoclonal
Concentration
0.5 mg/mL
Volume
1.0 mL
Recommended Storage
2-8°C
Applications
Flow Cytometry – Quality tested 1,4-19
Immunohistochemistry-Frozen Sections – Reported in literature 2
Immunoprecipitation – Reported in literature 1
ELISA – Reported in literature 3


RRID Number
AB_2796407
Gene ID
101083293 (Feline)

Gene ID Symbol
CD5 (Feline)

Documentation
---
Certificate of Analysis Lookup
Enter the Catalog Number and Lot Number for the Certificate of Analysis you wish to view
Need help with this product?
1. Ackley CD, Cooper MD. Characterization of a feline T-cell-specific monoclonal antibody reactive with a CD5-like molecule. Am J Vet Res. 1992;53:446-71. (Immunogen, FC, IP)
2. Fox JG, Perkins S, Yan L, Shen Z, Attardo L, Pappo J. Local immune response in Helicobacter pylori-infected cats and identification of H. pylori in saliva, gastric fluid and faeces. Immunology. 1996;88:400-6. (IHC-FS)
3. Bishop SA, Stokes CR, Gruffydd-Jones TJ, Whiting CV, Humphries JE, Osborne R, et al. Vaccination with fixed feline immunodeficiency virus (FIV) infected cells: protection, breakthrough and specificity of response. Vaccine. 1996;14:1243-50. (ELISA)
4. Shimojima M, Miyazawa T, Kohmoto M, Ikeda Y, Nishimura Y, Maeda K, et al. Expansion of CD8α+β- cells in cats infected with feline immunodeficiency virus. J Gen Virol. 1998;79:91-4. (FC)
5. Phipps AJ, Hayes KA, Buck WR, Podell M, Mathes LE. Neurophysiologic and immunologic abnormalities associated with feline immunodeficiency virus molecular clone FIV-PPR DNA inoculation. J Acquir Immune Defic Syndr. 2000;23:8-16. (FC)
6. Hokanson RM, TerWee J, Choi I, Coates J, Dean H, Reddy DN, et al. Dose response studies of acute feline immunodeficiency virus PPR strain infection in cats. Vet Microbiol. 2000;76:311-27. (FC)
7. Barr MC, Huitron-Resendiz S, Selway DR, Henriksen SJ, Phillips TR. Exogenous glucocorticoids alter parameters of early feline immunodeficiency virus infection. J Infect Dis. 2000;181:576-86. (FC)
8. Shimojima M, Nishimura Y, Miyazawa T, Kato K, Nakamura K, Izumiya Y, et al. A feline CD2 homologue interacts with human red blood cells. Immunology. 2002;105:360-6. (FC)
9. Hohdatsu T, Yamazaki A, Yamada M, Kusuhara H, Kaneshima T, Koyama H. Ability of CD8+ T cell anti-feline immunodeficiency virus activity correlated with peripheral CD4+ T cell counts and plasma viremia. Microbiol Immunol. 2003;47:765-73. (FC)
10. Howard KE, Fisher IL, Dean GA, Burkhard MJ. Methodology for isolation and phenotypic characterization of feline small intestinal leukocytes. J Immunol Methods. 2005;302:36-53. (FC)
11. Brennan G, Podell MD, Wack R, Kraft S, Troyer JL, Bielefeldt-Ohmann H, et al. Neurologic disease in captive lions (Panthera leo) with low-titer lion lentivirus infection. J Clin Microbiol. 2006;44:4345-52. (FC, Lion Reactivity)
12. Dean GA, LaVoy A, Yearley J, Stanton C. Cytokine modulation of the innate immune response in feline immunodeficiency virus-infected cats. J Infect Dis. 2006;193:1520-7. (FC)
13. Howard KE, Burkhard MJ. FIV infection induces unique changes in phenotype and cellularity in the medial iliac lymph node and intestinal IEL. AIDS Res Hum Retroviruses. 2007;23:720-8. (FC)
14. Pepin AC, Tandon R, Cattori V, Niederer E, Riond B, Willi B, et al. Cellular segregation of feline leukemia provirus and viral RNA in leukocyte subsets of long-term experimentally infected cats. Virus Res. 2007;127:9-16. (FC)
15. Mikkelsen SR, Reckling SK, Egan EA, Dean GA. In vivo depletion of CD4+CD25hi regulatory T cells is associated with improved antiviral responses in cats chronically infected with feline immunodeficiency virus. Virology. 2010;403:163-72. (FC)
16. Thompson J, MacMillan M, Boegler K, Wood C, Elder JH. Pathogenicity and rapid growth kinetics of feline immunodeficiency virus are linked to 3' elements. PLoS One. 2011;6(8):e24020. (FC)
17. Novacco M, Boretti FS, Franchini M, Riond B, Meli ML, Hofmann-Lehmann R. Protection from reinfection in "Candidatus Mycoplasma turicensis"-infected cats and characterization of the immune response. Vet Res. 2012;43:82. (FC)
18. Trzil JE, Masseau I, Webb TL, Chang C, Dodam JR, Cohn LA, et al. Long-term evaluation of mesenchymal stem cell therapy in a feline model of chronic allergic asthma. Clin Exp Allergy. 2014;44:1546-57. (FC)
19. Hicks CA, Willi B, Riond B, Novacco M, Meli ML, Stokes CR, et al. Protective Immunity against Infection with Mycoplasma haemofelis. Clin Vaccine Immunol. 2015;22:108-18. (FC)