Mouse Anti-Fibrillin-1-BIOT (11C1.3)
Biotin Anti-Fibrillin-1 antibody for use in immunohistochemistry / immunocytochemistry, electron microscopy, western blot, and immunoprecipitation assays.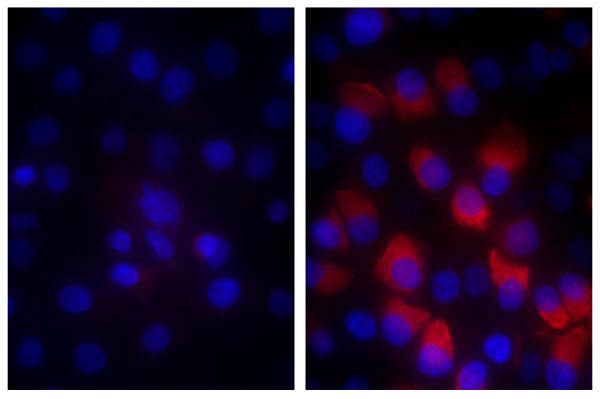 More Information
Clone
11C1.3
Isotype
Mouse (BALB/c) IgG1κ
Isotype Control
Mouse IgG1-BIOT (15H6)
Specificity
Human/Bovine/Japanese Macaque fibrillin-1
Alternative Names
FBN1
Description
The fibrillins are extracellular matrix glycoproteins which occur as a major component of a subset of connective tissue microfibrils. These microfibrils have a beaded appearance and a cross-sectional diameter of 10-12 nm. In elastic tissues, these structures are thought to provide the scaffold onto which elastin is assembled to form elastic fibers, although their function in non-elastic tissues is unclear. There is an aberrant expression of fibrillin in Marfan syndrome. The epitope for the monoclonal antibody 11C1.3 has been found to be within exons 18-20 (a.a. 723-909).
Immunogen
Microfibrils from the zonular apparatus of bovine eye
Conjugate
BIOT (Biotin)
Buffer Formulation
Phosphate buffered saline containing < 0.1% sodium azide
Clonality
Monoclonal
Concentration
0.2 mg/mL
Volume
1.0 mL
Recommended Storage
2-8°C
Applications
Immunohistochemistry-Frozen Sections – Quality tested 1-8
Immunohistochemistry-Paraffin Sections – Reported in literature 9,10
Immunocytochemistry – Reported in literature 1
Electron Microscopy – Reported in literature 1,2,6
Western Blot – Reported in literature 1
Immunoprecipitation 11


RRID Number
AB_2794756
Gene ID
2200 (Human)
281154 (Bovine)

Gene ID Symbol
FBN1 (Human)
FBN1 (Bovine)

Gene ID Aliases
FBN; SGS; WMS; MASS; MFLS; MFS1; OCTD; SSKS; WMS2; ACMICD; ECTOL1; GPHYSD2
UniProt ID
P35555 (Human)
P98133 (Bovine)

UniProt Name
FBN1_HUMAN (Human)
FBN1_BOVIN (Bovine)

Documentation
---
Certificate of Analysis Lookup
Enter the Catalog Number and Lot Number for the Certificate of Analysis you wish to view
Need help with this product?
1. Wright DW, McDaniels CN, Swasdison S, Accavitti MA, Mayne PM, Mayne R. Immunization with undenatured bovine zonular fibrils results in monoclonal antibodies to fibrillin. Matrix Biol. 1994;14:41-49. (Immunogen, IHC-FS, ICC, EM, WB, Bovine & Human Reactivity)
2. Maier A, McDaniels CN, Mayne R. Fibrillin and elastin networks in extrafusal tissue and muscle spindles of bovine extraocular muscles. Invest Ophthalmol Vis Sci. 1994;35:3103-10. (IHC-FS, EM, Bovine Reactivity)
3. Marionnet C, Vioux-Chagnoleau C, Pierrard C, Sok J, Asselineau D, Bernerd F. Morphogenesis of dermal-epidermal junction in a model of reconstructed skin: beneficial effects of vitamin C. Exp Dermatol. 2006;15:625-33. (IHC-FS, Human Reactivity)
4. Pflieger D, Chabane S, Gaillard O, Bernard BA, Ducoroy P, Rossier J, et al. Comparative proteomic analysis of extracellular matrix proteins secreted by two types of skin fibroblasts. Proteomics. 2006;6:5868-79. (IHC-FS, Human Reactivity)
5. Sok J, Pineau N, Dalko-Csiba M, Brenton L, Bernerd F. Improvement of the dermal epidermal junction in human reconstructed skin by a new c-xylopyranoside derivative. Eur J Dermatol. 2008;18:297-302. (IHC-FS, Human Reactivity)
6. Sawada T. Ultrastructural localization of fibrillin-1 and fibrillin-2 in oxytalan fibers in periodontal ligament of Japanese Macaca fuscata monkey. J Mol Histol. 2010;41:225-31. (IHC-FS, EM, Japanese Macaque Reactivity)
7. Grant TM, Thompson MS, Urban J, Yu J. Elastic fibres are broadly distributed in tendon and highly localized around tenocytes. J Anat. 2013;222:573-9. (IHC-FS, Bovine Reactivity)
8. Tran C, Michelet JF, Simonetti L, Fiat F, Garrigues A, Potter A, et al. In vitro and in vivo studies with tetra-hydro-jasmonic acid (LR2412) reveal its potential to correct signs of skin ageing. J Eur Acad Dermatol Venereol. 2014;28:415-23. (IHC-FS, Human Reactivity)
9. Söderberg MW, Byström B, Hammarström M, Malmström A, Ekman-Ordeberg G. Decreased gene expression of fibrillin-1 in stress urinary incontinence. Neurourol Urodyn. 2010;29:476-81. (IHC-PS, Human Reactivity)
10. Qiu SS, Dotor J, Hontanilla B. Effect of P144® (Anti-TGF-β) in an "in vivo" human hypertrophic scar model in nude mice. PLoS One. 2015;10(12):e0144489. (IHC-PS, Human Reactivity)
11. Personal communication (IP)