Mouse Anti-Mouse H-2Db-UNLB (27-11-13S)
Purified Anti-Mouse H-2Db antibody for use in flow cytometry, immunocytochemistry, immunoprecipitation, and CMCD assays.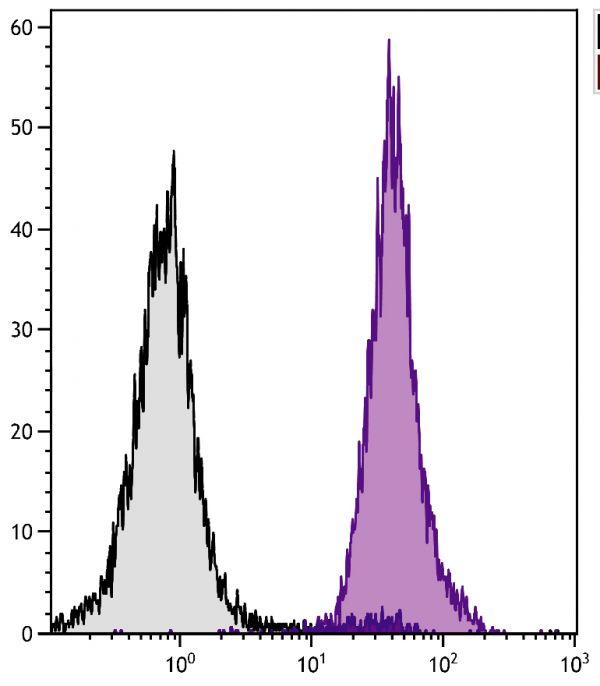 More Information
Clone
27-11-13S
Isotype
Mouse (C3H) IgG2aκ
Isotype Control
Mouse IgG2a-UNLB (HOPC-1)
Specificity
Mouse H-2Db
Alternative Names
MHC Class I
Description
The monoclonal antibody 27-11-13S recognizes with the α3 domain of H-2Db class I MHC antigen. The antibody cross-reacts with the α3 domain of H-2Dd, H-2Dq, H-2Ld and H-2Lq but not H-2Kb. Reactivity with haplotypes k, f, p, r, and s has not been observed.
Immunogen
BDF1 mouse splenocytes
Conjugate
UNLB (Unconjugated)
Buffer Formulation
Borate buffered saline, pH 8.2
Clonality
Monoclonal
Concentration
0.5 mg/mL
Volume
1.0 mL
Recommended Storage
2-8°C
Applications
Flow Cytometry – Quality tested 2
Immunocytochemistry – Reported in literature 3
Immunoprecipitation – Reported in literature 4
Complement Mediated Cell Depletion – Reported in literature 1


RRID Number
AB_2795504
Gene ID
14964 (Mouse)

Gene ID Symbol
H2-D1 (Mouse)

Gene ID Aliases
H-2D; H2-D; H2-K1
UniProt ID
P01899 (Mouse)

UniProt Name
HA11_MOUSE (Mouse)

Documentation
---
Certificate of Analysis Lookup
Enter the Catalog Number and Lot Number for the Certificate of Analysis you wish to view
Need help with this product?
1. Ozato K, Sachs DH. Monoclonal antibodies to mouse MHC antigens. III. Hybridoma antibodies reacting to antigens of the H-2b haplotype reveal genetic control of isotype expression. J Immunol. 1981;126:317-21. (Immunogen, CMDC)
2. Palmowski MJ, Parker M, Choudhuri K, Chiu C, Callan MF, van der Merwe PA. A single-chain H-2Db molecule presenting an influenza virus nucleoprotein epitope shows enhanced ability at stimulating CD8+ T cell responses in vivo. J Immuno. 2009;182:4565-71. (FC)
3. Choudhuri K, Parker M, Milicic A, Cole DK, Shaw MK, Sewell AK, et al. Peptide-major histocompatibility complex dimensions control proximal kinase-phosphatase balance during T cell activation. J Biol Chem. 2009;284:26096-105. (ICC)
4. Shemesh J, Ehrlich R. Aberrant biosynthesis and transport of class I major histocompatibility complex molecules in cells transformed with highly oncogenic human adenoviruses. J Biol Chem. 1993;268:15704-11. (IP)