Mouse Anti-Mouse H-2Dk-PE (15-5-5)
PE Anti-Mouse H-2Dk antibody for use in flow cytometry assays.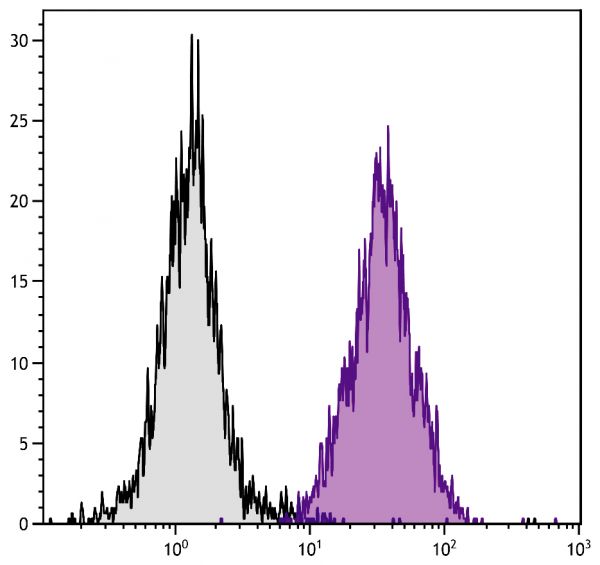 More Information
Clone
15-5-5
Isotype
Mouse (C3H.SW) IgG2aκ
Isotype Control
Mouse IgG2a-PE (HOPC-1)
Specificity
Mouse H-2Dk
Alternative Names
MHC Class I
Description
The monoclonal antibody 15-5-5 reacts with the H-2Dk class I alloantigen. It cross-reacts with H-2Kd and with cells from mice with the H-2f haplotype. The antibody does not react with other (e.g., a, b, p, q, r, s) haplotypes.
Immunogen
C3H mouse splenocytes
Conjugate
PE (R-phycoerythrin)
Buffer Formulation
Phosphate buffered saline containing < 0.1% sodium azide and a stabilizer
Clonality
Monoclonal
Concentration
0.1 mg/mL
Volume
1.0 mL
Recommended Storage
2-8°C; Avoid exposure to light; Do not freeze
Applications
Flow Cytometry – Quality tested 6
Immunoprecipitation – Reported in literature 3
Complement Mediated Cell Depletion – Reported in literature 1,2
ELISA – Reported in literature 4
Blocking – Reported in literature 5


RRID Number
AB_2795513
Gene ID
14964 (Mouse)

Gene ID Symbol
H2-D1 (Mouse)

Gene ID Aliases
H-2D; H2-D; H2-K1
UniProt ID
P14426 (Mouse)

UniProt Name
HA13_MOUSE (Mouse)

Documentation
---
Certificate of Analysis Lookup
Enter the Catalog Number and Lot Number for the Certificate of Analysis you wish to view
Need help with this product?
1. Ozato K, Mayer N, Sachs DH. Hybridoma cell lines secreting monoclonal antibodies to mouse H-2 and Ia antigens. J Immunol. 1980;124:533-40. (Immunogen, CMDC)
2. Rogers MJ, Gooding LR, Margulies DH, Evans GA. Analysis of a defect in the H-2 genes of SV40 transformed C3H fibroblasts that do not express H-2Kk. J Immunol. 1983;130:2418-22. (CMDC)
3. Houlden BA, Widacki SM, Bluestone JA. Signal transduction through class I MHC by a monoclonal antibody that detects multiple murine and human class I molecules. J Immunol. 1991;146:425-30. (IP)
4. Bedford P, Garner K, Knight SC. MHC class II molecules transferred between allogeneic dendritic cells stimulate primary mixed leukocyte reactions. Int Immunol. 1999;11:1739-44. (ELISA)
5. Desrosiers M, Kielczewska A, Loredo-Osti J, Adam SG, Makrigiannis AP, Lemieux S, et al. Epistasis between mouse Klra and major histocompatibility complex class I loci is associated with a new mechanism of natural killer cell-mediated innate resistance to cytomegalovirus infection. Nat Genet. 2005;37:593-9. (Block)
6. Matsuoka S, Asano Y, Sano K, Kishimoto H, Yamashita I, Yorifuji H, et al. A novel type of cell death of lymphocytes induced by a monoclonal antibody without participation of complement. J Exp Med. 1995;181:2007-15. (FC)