Mouse Anti-Porcine CD21-FITC (BB6-11C9.6)
FITC Anti-Porcine CD21 for use in flow cytometry and immunohistochemistry assays.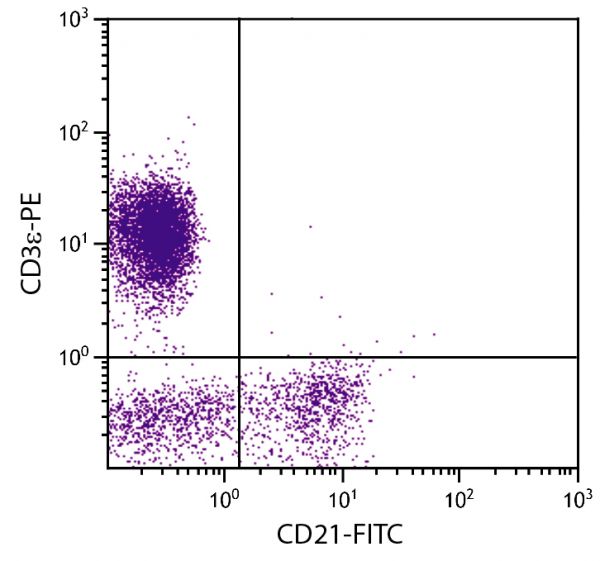 More Information
Clone
BB6-11C9.6
Isotype
Mouse (BALB/c) IgG1κ
Isotype Control
Mouse IgG1-FITC (15H6)
Specificity
Porcine CD21
Description
CD21, also known as complement receptor 2, is expressed on all mature circulating B lymphocytes but not on T lymphocytes or natural killer cells. Low density CD21 has also been reported on granulocytes and monocytes. The monoclonal antibody BB6-11C9.6 stains the following percentages of surface immunoglobulin (sIg) positive cells in porcine lymphoid tissues - 92-96% in peripheral blood, 74-98% in mesenteric lymph nodes, 97-100% in ileal Peyer's patches (ILPP), 93-97% in spleen, and 0% in thymus. The antibody does not stain B cells in cord blood or spleen from pig fetuses (105 days gestation).
Conjugate
FITC (Fluorescein)
Buffer Formulation
Phosphate buffered saline containing < 0.1% sodium azide
Clonality
Monoclonal
Concentration
0.5 mg/mL
Volume
1.0 mL
Recommended Storage
2-8°C; Avoid exposure to light
Applications
Flow Cytometry – Quality tested 4,8-21
Immunohistochemistry-Frozen Sections – Reported in literature 1-3
Immunoprecipitation – Reported in literature 4
Separation – Reported in literature 5-8


RRID Number
AB_2796043
Documentation
---
Certificate of Analysis Lookup
Enter the Catalog Number and Lot Number for the Certificate of Analysis you wish to view
Need help with this product?
1. Shimizu A, Yamada K, Meehan SM, Sachs DH, Colvin RB. Acceptance reaction: intragraft events associated with tolerance to renal allografts in miniature swine. J Am Soc Nephrol. 2000;11:2371-80. (IHC-FS)
2. Jamin A, Gorin S, Le Potier M, Kuntz-Simon G. Characterization of conventional and plasmacytoid dendritic cells in swine secondary lymphoid organs and blood. Vet Immunol Immunopathol. 2006;114:224-37. (IHC-FS)
3. Jamin A, Gorin S, Cariolet R, Le Potier M, Kuntz-Simon G. Classical swine fever virus induces activation of plasmacytoid and conventional dendritic cells in tonsil, blood, and spleen of infected pigs. Vet Res. 2008;39:7. (IHC-FS)
4. Denham S, Zwart RJ, Whittall JT, Pampusch M, Corteyn AH, Bianchi AT, et al. Monoclonal antibodies putatively identifying porcine B cells. Vet Immunol Immunopathol. 1998;60:317-28. (IP, FC)
5. Toka FN, Nfon C, Dawson H, Golde WT. Natural killer cell dysfunction during acute infection with foot-and-mouth disease virus. Clin Vaccine Immunol. 2009;16:1738-49. (Sep)
6. Toka FN, Nfon CK, Dawson H, Estes DM, Golde WT. Activation of porcine natural killer cells and lysis of foot-and-mouth disease virus infected cells. J Interferon Cytokine Res. 2009;29:179-92. (Sep)
7. Toka FN, Nfon CK, Dawson H, Golde WT. Accessory-cell-mediated activation of porcine NK cells by toll-like receptor 7 (TLR7) and TLR8 agonists. Clin Vaccine Immunol. 2009;16:866-78. (Sep)
8. Liu KY, Comstock SS, Shunk JM, Monaco MH, Donovan SM. Natural killer cell populations and cytotoxic activity in pigs fed mother's milk, formula, or formula supplemented with bovine lactoferrin. Pediatr Res. 2013;74:402-7. (FC, Sep)
9. Lan P, Wang L, Diouf B, Eguchi H, Su H, Bronson R, et al. Induction of human T-cell tolerance to porcine xenoantigens through mixed hematopoietic chimerism. Blood. 2004;103:3964-9. (FC)
10. Tohno M, Shimosato T, Kitazawa H, Katoh S, Iliev ID, Kimura T, et al. Toll-like receptor 2 is expressed on the intestinal M cells in swine. Biochem Biophys Res Commun. 2005;330:547-54. (FC)
11. Nofrarías M, Manzanilla EG, Pujols J, Gibert X, Majó N, Segalés J, et al. Effects of spray-dried porcine plasma and plant extracts on intestinal morphology and on leukocyte cell subsets of weaned pigs. J Anim Sci. 2006;84:2735-42. (FC)
12. Rau H, Revets H, Cornelis P, Titzmann A, Ruggli N, McCullough KC, et al. Efficacy and functionality of lipoprotein OprI from Pseudomonas aeruginosa as adjuvant for a subunit vaccine against classical swine fever. Vaccine. 2006;24:4757-68. (FC)
13. Bergamin F, Vincent IE, Summerfield A, McCullough KC. Essential role of antigen-presenting cell-derived BAFF for antibody responses. Eur J Immunol. 2007;37:3122-30. (FC)
14. Layton DS, Strom AD, O'Neil TE, Broadway MM, Stephenson GL, Morris KR, et al. Development of an anti-porcine CD34 monoclonal antibody that identifies hematopoietic stem cells. Exp Hematol. 2007;35:171-8. (FC)
15. Shi K, Li H, Guo X, Ge X, Jia H, Zheng S, et al. Changes in peripheral blood leukocyte subpopulations in piglets co-infected experimentally with porcine reproductive and respiratory syndrome virus and porcine circovirus type 2. Vet Microbiol. 2008;129:367-77. (FC)
16. Facci MR, Auray G, Buchanan R, van Kessel J, Thompson DR, Mackenzie-Dyck S, et al. A comparison between isolated blood dendritic cells and monocyte-derived dendritic cells in pigs. Immunology. 2010;129:396-405. (FC)
17. Kick AR, Tompkins MB, Hammer JM, Routh PA, Almond GW. Evaluation of peripheral lymphocytes after weaning and vaccination for Mycoplasma hyopneumoniae. Res Vet Sci. 2011;91:e68-72. (FC)
18. Kick AR, Tompkins MB, Flowers WL, Whisnant CS, Almond GW. Effects of stress associated with weaning on the adaptive immune system in pigs. J Anim Sci. 2012;90:649-56. (FC)
19. Liu Y, Che TM, Song M, Lee JJ, Almeida JA, Bravo D, et al. Dietary plant extracts improve immune responses and growth efficiency of pigs experimentally infected with porcine reproductive and respiratory syndrome virus. J Anim Sci. 2013;91:5668-79. (FC)
20. Zentek J, Gärtner S, Tedin L, Männer K, Mader A, Vahjen W. Fenugreek seed affects intestinal microbiota and immunological variables in piglets after weaning. Br J Nutr. 2013;109:859-66. (FC)
21. Nfon CK, Leung A, Smith G, Embury-Hyatt C, Kobinger G, Weingartl HM. Immunopathogenesis of severe acute respiratory disease in Zaire ebolavirus-infected pigs. PLoS One. 2013;8(4):e61904. (FC)