Mouse Anti-Porcine Monocyte/Granulocyte-BIOT (74-22-15)
Biotin Anti-Porcine Monocyte/Granulocyte for use in flow cytometry, immunohistochemistry / immunocytochemistry, immunoprecipitation, ELISA, and separation assays.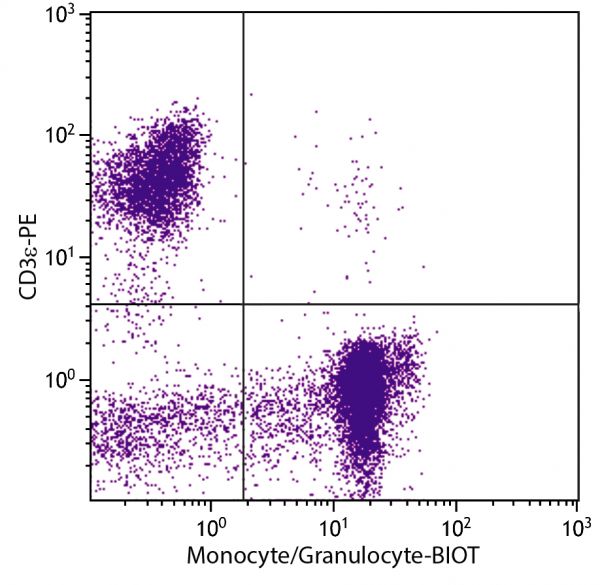 More Information
Clone
74-22-15
Isotype
Mouse (BALB/c) IgG1κ
Isotype Control
Mouse IgG1-BIOT (15H6)
Specificity
Porcine Monocytes & Granulocytes
Alternative Names
CD172a, SWC3a
Description
The monoclonal antibody 74-22-15 reacts with > 90% of porcine monocytes and granulocytes and < 5% of peripheral blood lymphocytes.
Immunogen
Fresh dd miniature swine thymocytes
Conjugate
BIOT (Biotin)
Buffer Formulation
Phosphate buffered saline containing < 0.1% sodium azide
Clonality
Monoclonal
Concentration
0.5 mg/mL
Volume
1.0 mL
Recommended Storage
2-8°C
Applications
Flow Cytometry – Quality tested 1,4,5,7,12-21
Immunohistochemistry-Frozen Sections – Reported in literature 2-7
Immunohistochemistry-Paraffin Sections – Reported in literature 22
Immunocytochemistry – Reported in literature 7,8
Immunoprecipitation – Reported in literature 1
ELISA – Reported in literature 1
Separation – Reported in literature 7,9-12,17


RRID Number
AB_2796039
Documentation
---
Certificate of Analysis Lookup
Enter the Catalog Number and Lot Number for the Certificate of Analysis you wish to view
Need help with this product?
1. Pescovitz MD, Lunney JK, Sachs DH. Preparation and characterization of monoclonal antibodies reactive with porcine PBL. J Immunol. 1984;133:368-375. (Immunogen, FC, ELISA, IP)
2. Minguez I, Rueda A, Domínguez J, Sánchez-Vizcaíno JM. Double labeling immunohistological study of African swine fever virus-infected spleen and lymph nodes. Vet Pathol. 1988;25:193-8. (IHC-FS)
3. Shimizu A, Yamada K, Meehan SM, Sachs DH, Colvin RB. Acceptance reaction: intragraft events associated with tolerance to renal allografts in miniature swine. J Am Soc Nephrol. 2000;11:2371-80. (IHC-FS)
4. Jamin A, Gorin S, Le Potier M, Kuntz-Simon G. Characterization of conventional and plasmacytoid dendritic cells in swine secondary lymphoid organs and blood. Vet Immunol Immunopathol. 2006;114:224-37. (FC, IHC-FS)
5. Jamin A, Gorin S, Cariolet R, Le Potier M, Kuntz-Simon G. Classical swine fever virus induces activation of plasmacytoid and conventional dendritic cells in tonsil, blood, and spleen of infected pigs. Vet Res. 2008;39:7. (FC, IHC-FS)
6. Diaz-San Segundo F, Moraes MP, de Los Santos T, Dias CC, Grubman MJ. Interferon-induced protection against foot-and-mouth disease virus infection correlates with enhanced tissue-specific innate immune cell infiltration and interferon-stimulated gene expression. J Virol. 2010;84:2063-77. (IHC-FS)
7. Villena J, Suzuki R, Fujie H, Chiba E, Takahashi T, Tomosada Y, et al. Immunobiotic Lactobacillus jensenii modulates the Toll-like receptor 4-induced inflammatory response via negative regulation in porcine antigen-presenting cells. Clin Vaccine Immunol. 2012;19:1038-53. (FC, IHC-FS, Sep, ICC)
8. Wewer C, Seibt A, Wolburg H, Greune L, Schmidt MA, Berger J, et al. Transcellular migration of neutrophil granulocytes through the blood-cerebrospinal fluid barrier after infection with Streptococcus suis. J Neuroinflammation. 2011;8:51. (ICC)
9. Toka FN, Nfon C, Dawson H, Golde WT. Natural killer cell dysfunction during acute infection with foot-and-mouth disease virus. Clin Vaccine Immunol. 2009;16:1738-49. (Sep)
10. Toka FN, Nfon CK, Dawson H, Estes DM, Golde WT. Activation of porcine natural killer cells and lysis of foot-and-mouth disease virus infected cells. J Interferon Cytokine Res. 2009;29:179-92. (Sep)
11. Toka FN, Nfon CK, Dawson H, Golde WT. Accessory-cell-mediated activation of porcine NK cells by toll-like receptor 7 (TLR7) and TLR8 agonists. Clin Vaccine Immunol. 2009;16:866-78. (Sep)
12. Liu KY, Comstock SS, Shunk JM, Monaco MH, Donovan SM. Natural killer cell populations and cytotoxic activity in pigs fed mother's milk, formula, or formula supplemented with bovine lactoferrin. Pediatr Res. 2013;74:402-7. (FC, Sep)
13. Xiao Z, Batista L, Dee S, Halbur P, Murtaugh MP. The level of virus-specific T-cell and macrophage recruitment in porcine reproductive and respiratory syndrome virus infection in pigs is independent of virus load. J Virol. 2004;78:5923-33. (FC)
14. Yu S, Vincent A, Opriessnig T, Carpenter S, Kitikoon P, Halbur PG, et al. Quantification of PCV2 capsid transcript in peripheral blood mononuclear cells (PBMCs) in vitro. Vet Microbiol. 2007;123:34-42. (FC)
15. Nfon CK, Dawson H, Toka FN, Golde WT. Langerhans cells in porcine skin. Vet Immunol Immunopathol. 2008;126:236-47. (FC)
16. Shi K, Li H, Guo X, Ge X, Jia H, Zheng S, et al. Changes in peripheral blood leukocyte subpopulations in piglets co-infected experimentally with porcine reproductive and respiratory syndrome virus and porcine circovirus type 2. Vet Microbiol. 2008;129:367-77. (FC)
17. Layton DS, Bean AG, Dodge NM, Strom AD, Sandrin MS, Ierino FL. Differential cytokine expression and regulation of human anti-pig xenogeneic responses by modified porcine dendritic cells. Xenotransplantation. 2008;15:257-67. (Sep, FC)
18. Wen K, Azevedo MS, Gonzalez A, Zhang W, Saif LJ, Li G, et al. Toll-like receptor and innate cytokine responses induced by lactobacilli colonization and human rotavirus infection in gnotobiotic pigs. Vet Immunol Immunopathol. 2009;127:304-15. (FC)
19. Nfon CK, Toka FN, Kenney M, Pacheco JM, Golde WT. Loss of plasmacytoid dendritic cell function coincides with lymphopenia and viremia during foot-and-mouth disease virus infection. Viral Immunol. 2010;23:29-41. (FC)
20. Ravlo K, Koefoed-Nielsen P, Secher N, Søndergaard P, Keller AK, Petersen MS, et al. Effect of remote ischemic conditioning on dendritic cell number in blood after renal transplantation--flow cytometry in a porcine model. Transpl Immunol. 2012;26:146-50. (FC)
21. Ladinig A, Gerner W, Saalmüller A, Lunney JK, Ashley C, Harding JC. Changes in leukocyte subsets of pregnant gilts experimentally infected with porcine reproductive and respiratory syndrome virus and relationships with viral load and fetal outcome. Vet Res. 2014;45:128. (FC)
22. Tingstedt J, Tornehave D, Lind P, Nielsen J. Immunohistochemical detection of SWC3, CD2, CD3, CD4 and CD8 antigens in paraformaldehyde fixed and paraffin embedded porcine lymphoid tissue. Vet Immunol Immunopathol. 2003;94:123-32. (IHC-PS)