Goat F(ab')2 Anti-Human IgG, Mouse ads-PE
Goat F(ab')2 Anti-Human IgG-PE antibody with minimal reactivity to mouse proteins for use in flow cytometry assays.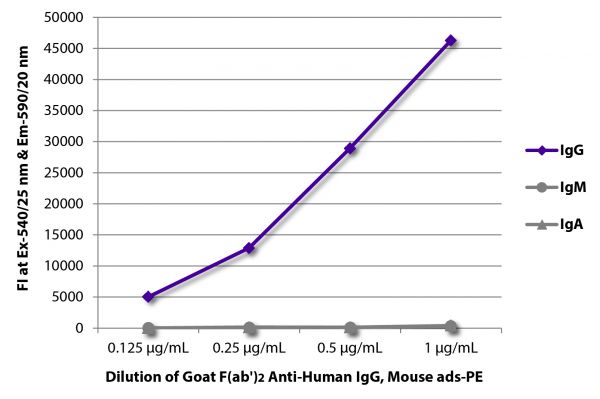 More Information
Isotype
Goat F(ab')2 IgG
Isotype Control
Goat F(ab')2 IgG-PE
Specificity
Reacts with the heavy chain of human IgG
Source
Pepsin digest of goat anti-human IgG (SB Cat. No. 2044)
Cross Adsorption
Human IgM and IgA; mouse immunoglobulins and pooled sera; may react with IgG from other species
Conjugate
PE (R-phycoerythrin)
Buffer Formulation
Phosphate buffered saline containing < 0.1% sodium azide and a stabilizer
Clonality
Polyclonal
Concentration
0.25 mg/mL
Volume
1.0 mL
Recommended Storage
2-8°C; Avoid exposure to light; Do not freeze
Applications
Quality tested applications for relevant formats include -
ELISA
FLISA
Flow Cytometry 1-5


RRID Number
AB_2795669
Documentation
---
Certificate of Analysis Lookup
Enter the Catalog Number and Lot Number for the Certificate of Analysis you wish to view
Need help with this product?
1. Oritani K, Kincade PW. Identification of stromal cell products that interact with pre-B cells. J Cell Biol. 1996;134:771-82. (FC)
2. Weih DS, Yilmaz B, Weih F. Essential role of RelB in germinal center and marginal zone formation and proper expression of homing chemokines. J Immunol. 2001;167:1909-19. (FC)
3. Heuser C, Ganser M, Hombach A, Brand H, Denton G, Hanisch F, et al. An anti-MUC1-antibody-interleukin-2 fusion protein that activates resting NK cells to lysis of MUC1-positive tumour cells. Br J Cancer. 2003;89:1130-9. (FC)
4. Hinton PR, Xiong JM, Johlfs MG, Tang MT, Keller S, Tsurushita N. An engineered human IgG1 antibody with longer serum half-life. J Immunol. 2006;176:346-56. (FC)
5. Tunheim G, Schjetne KW, Rasmussen IB, Sollid LM, Sandlie I, Bogen B. Recombinant antibodies for delivery of antigen: a single loop between β-strands in the constant region can accommodate long, complex and tandem T cell epitopes. Int Immunol. 2008;20:295-306. (FC)