Mouse Anti-Porcine CD3ε-PE (BB23-8E6)
PE Anti-Porcine CD3 epsilon for use in flow cytometry assays.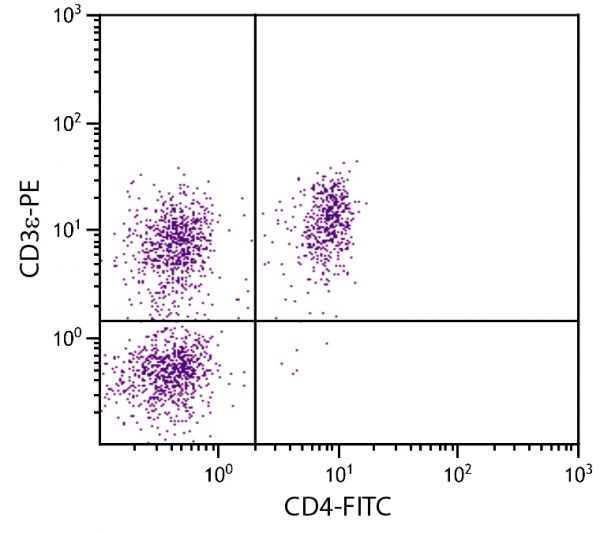 More Information
Clone
BB23-8E6 (BB23-8E6-2B3C)
Isotype
Mouse (BALB/c) IgG2bκ
Isotype Control
Mouse IgG2b-PE (A-1)
Specificity
Porcine CD3ε
Description
Porcine CD3ε is a member of the T-cell receptor-associated CD3 complex. It is found on a subpopulation of thymocytes and on all pig T lymphocytes. The monoclonal antibody BB23-8E6-2B3C is a immunoglobulin isotype switch variant of the BB23-8E6 clone which has been shown to be useful in immunoprecipitation, immunocytochemistry, and costimulation 4.
Conjugate
PE (R-phycoerythrin)
Buffer Formulation
Phosphate buffered saline containing < 0.1% sodium azide and a stabilizer
Clonality
Monoclonal
Concentration
0.1 mg/mL
Volume
1.0 mL
Recommended Storage
2-8°C; Avoid exposure to light; Do not freeze
Applications
Flow Cytometry – Quality tested 4-14
Immunohistochemistry-Frozen Sections – Reported in literature 1-3


RRID Number
AB_2796022
Gene ID
397455 (Porcine)

Gene ID Symbol
CD3E (Porcine)

Gene ID Aliases
CD3
UniProt ID
Q7YRN2 (Porcine)

UniProt Name
CD3E_PIG (Porcine)

Documentation
---
Certificate of Analysis Lookup
Enter the Catalog Number and Lot Number for the Certificate of Analysis you wish to view
Need help with this product?
1. Yamada K, Shimizu A, Ierino FL, Utsugi R, Barth RN, Esnaola N, et al. Thymic transplantation in miniature swine. I. Development and function of the "thymokidney". Transplantation. 1999;68:1684-92. (IHC-FS)
2. Shimizu A, Yamada K, Meehan SM, Sachs DH, Colvin RB. Acceptance reaction: intragraft events associated with tolerance to renal allografts in miniature swine. J Am Soc Nephrol. 2000;11:2371-80. (IHC-FS)
3. Shimizu A, Yamada K, Sachs DH, Colvin RB. Mechanisms of chronic renal allograft rejection. II. Progressive allograft glomerulopathy in miniature swine. Lab Invest. 2002;82:673-85. (IHC-FS)
4. Pescovitz MD, Book BK, Aasted B, Dominguez J, Ezquerra A, Trebichavsky I, et al. Analyses of monoclonal antibodies reacting with porcine CD3: results from the Second International Swine CD Workshop. Vet Immunol Immunopathol. 1998;60:261-8. (FC, IP, ICC, Costim)
5. Nofrarías M, Manzanilla EG, Pujols J, Gibert X, Majó N, Segalés J, et al. Effects of spray-dried porcine plasma and plant extracts on intestinal morphology and on leukocyte cell subsets of weaned pigs. J Anim Sci. 2006;84:2735-42. (FC)
6. Toka FN, Nfon C, Dawson H, Golde WT. Natural killer cell dysfunction during acute infection with foot-and-mouth disease virus. Clin Vaccine Immunol. 2009;16:1738-49. (FC)
7. Kick AR, Tompkins MB, Flowers WL, Whisnant CS, Almond GW. Effects of stress associated with weaning on the adaptive immune system in pigs. J Anim Sci. 2012;90:649-56. (FC)
8. Mair KH, Essler SE, Patzl M, Storset AK, Saalmüller A, Gerner W. NKp46 expression discriminates porcine NK cells with different functional properties. Eur J Immunol. 2012;42:1261-71. (FC)
9. Reutner K, Leitner J, Essler SE, Witter K, Patzl M, Steinberger P, et al. Porcine CD27: identification, expression and functional aspects in lymphocyte subsets in swine. Dev Comp Immunol. 2012;38:321-31. (FC)
10. Hester SN, Comstock SS, Thorum SC, Monaco MH, Pence BD, Woods JA, et al. Intestinal and systemic immune development and response to vaccination are unaffected by dietary (1,3/1,6)-β-D-glucan supplementation in neonatal piglets. Clin Vaccine Immunol. 2012;19:1499-508. (FC)
11. Mair KH, Müllebner A, Essler SE, Duvigneau JC, Storset AK, Saalmüller A, et al. Porcine CD8αdim/-NKp46high NK cells are in a highly activated state. Vet Res. 2013;44(1):13. (FC)
12. Thorum SC, Hester SN, Comstock SS, Monaco MH, Pence BD, Woods JA, et al. Dietary (1,3/1,6)-β-D-glucan decreases transforming growth factor β expression in the lung of the neonatal piglet. Nutr Res. 2013;33:322-31 (FC)
13. Ladinig A, Gerner W, Saalmüller A, Lunney JK, Ashley C, Harding JC. Changes in leukocyte subsets of pregnant gilts experimentally infected with porcine reproductive and respiratory syndrome virus and relationships with viral load and fetal outcome. Vet Res. 2014;45:128. (FC)
14. Franzoni G, Edwards JC, Kurkure NV, Edgar DS, Sanchez-Cordon PJ, Haines FJ, et al. Partial activation of natural killer and γδ T cells by classical swine fever viruses is associated with type I interferon elicited from plasmacytoid dendritic cells. Clin Vaccine Immunol. 2014;21:1410-20. (FC)