Rat Anti-Mouse MHC Class II-SPRD (NIMR-4)
PE/CY5 (SPRD) Anti-Mouse MHC Class II antibody for use in flow cytometry assays.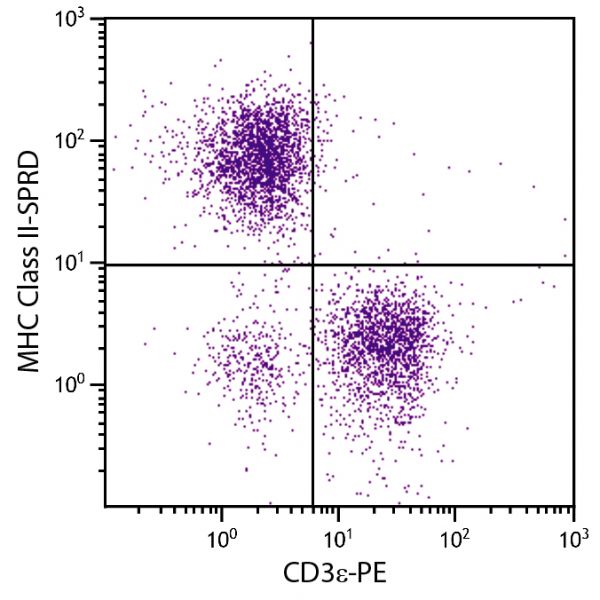 More Information
Clone
NIMR-4
Isotype
Rat IgG2bκ
Isotype Control
Rat IgG2b-SPRD (KLH/G2b-1-2)
Specificity
Mouse MHC Class II
Alternative Names
I-A antigen
Description
The monoclonal antibody NIMR-4 reacts specifically with a non-polymorphic I-A-encoded epitope on MHC Class II antigens. Class II antigens are predominantly expressed on antigen-presenting cells including B lymphocytes, macrophages, dendritic cells, and certain epithelial cells.
Conjugate
SPRD (R-phycoerythrin/Cyanine 5)
Buffer Formulation
Phosphate buffered saline containing < 0.1% sodium azide and a stabilizer
Clonality
Monoclonal
Concentration
0.1 mg/mL
Volume
1.0 mL
Recommended Storage
2-8°C; Avoid exposure to light; Do not freeze
Trademark Information
Spectral Red® is a registered trademark of Southern Biotechnology Associates, Inc.
Spectral Red® is a PE/CY5 tandem conjugate
Cy® is a registered trademark of Global Life Sciences Solutions Germany GmbH
Applications
Flow Cytometry – Quality tested 4-13
Immunohistochemistry-Frozen Sections – Reported in literature 1
Immunocytochemistry – Reported in literature 1,2
Separation – Reported in literature 3


RRID Number
AB_2795447
Gene ID
14960 (Mouse)

Gene ID Symbol
H2-Aa (Mouse)

Gene ID Aliases
Ia1; H2Aa; Ia-1; H-2Aa; Aalpha; IAalpha; I-Aalpha
UniProt ID
P01910 (Mouse)
P04227 (Mouse)
P04228 (Mouse)
P14434 (Mouse)
P14435 (Mouse)
P14436 (Mouse)
P14437 (Mouse)
P14438 (Mouse)
P23150 (Mouse)

UniProt Name
HA2K_MOUSE (Mouse)
HA2Q_MOUSE (Mouse)
HA2D_MOUSE (Mouse)
HA2B_MOUSE (Mouse)
HA2F_MOUSE (Mouse)
HA2R_MOUSE (Mouse)
HA2S_MOUSE (Mouse)
HA2U_MOUSE (Mouse)
HA2J_MOUSE (Mouse)

Documentation
---
Certificate of Analysis Lookup
Enter the Catalog Number and Lot Number for the Certificate of Analysis you wish to view
Need help with this product?
1. Andrew EM, Parkhouse RM. Immune induction of Ia antigens in activated T cells and in kidney epithelial cells in mice. Immunology. 1986;58:603-6. (IHC-FS, ICC)
2. Zaliauskiene L, Kang S, Sparks K, Zinn KR, Schwiebert LM, Weaver CT, et al. Enhancement of MHC class II-restricted responses by receptor-mediated uptake of peptide antigens. J Immunol. 2002;169:2337-45. (ICC)
3. Lindsey JW. Dexamethasone-induced Ras-related protein 1 is a potential regulatory protein in B lymphocytes. Int Immunol. 2007;19:583-90. (Sep)
4. Caspar-Bauguil S, Cousin B, Galinier A, Segafredo C, Nibbelink M, André M, et al. Adipose tissues as an ancestral immune organ: site-specific change in obesity. FEBS. 2005;579:3487-92. (FC)
5. Bauer C, Bauernfeind F, Sterzik A, Orban M, Schnurr M, Lehr HA, et al. Dendritic cell-based vaccination combined with gemcitabine increases survival in a murine pancreatic carcinoma model. Gut. 2007;56:1275-82. (FC)
6. Krishnamoorthy N, Oriss TB, Paglia M, Fei M, Yarlagadda M, Vanhaesebroeck B, et al. Activation of c-Kit in dendritic cells regulates T helper cell differentiation and allergic asthma. Nat Med. 2008;14:565-73. (FC)
7. Gu T, Zhu Y, Chen C, Li M, Chen Y, Yu G, et al. Fine-tuned expression of programmed death 1 ligands in mature dendritic cells stimulated by CD40 ligand is critical for the induction of an efficient tumor specific immune response. Cell Mol Immunol. 2008;5:33-9. (FC)
8. Brix S, Lund P, Kjaer TM, Straarup EM, Hellgren LI, Frøkiær H. CD4+ T-cell activation is differentially modulated by bacteria-primed dendritic cells, but is generally down-regulated by n-3 polyunsaturated fatty acids. Immunology. 2010;129:338-50. (FC)
9. Jacobsen JT, Lunde E, Sundvold-Gjerstad V, Munthe LA, Bogen B. The cellular mechanism by which complementary Id+ and anti-Id antibodies communicate: T cells integrated into idiotypic regulation. Immunol Cell Biol. 2010;88:515-22. (FC)
10. Arora M, Poe SL, Oriss TB, Krishnamoorthy N, Yarlagadda M, Wenzel SE, et al. TLR4/MyD88-induced CD11b+Gr-1intF4/80+ non-migratory myeloid cells suppress Th2 effector function in the lung. Mucosal Immunol. 2010;3:578-93. (FC)
11. Duewell P, Kisser U, Heckelsmiller K, Hoves S, Stoitzner P, Koernig S, et al. ISCOMATRIX adjuvant combines immune activation with antigen delivery to dendritic cells in vivo leading to effective cross-priming of CD8+ T cells. J Immunol. 2011;187:55-63. (FC)
12. Szyszko EA, Skarstein K, Jonsson R, Brokstad KA. Distinct phenotypes of plasma cells in spleen and bone marrow of autoimmune NOD.B10.H2b mice. Autoimmunity. 2011;44:415-26. (FC)
13. Khare A, Krishnamoorthy N, Oriss TB, Fei M, Ray P, Ray A. Cutting edge: inhaled antigen upregulates retinaldehyde dehydrogenase in lung CD103+ but not plasmacytoid dendritic cells to induce Foxp3 de novo in CD4+ T cells and promote airway tolerance. J Immunol. 2013;191:25-29. (FC)