Rat Anti-Mouse CD102-FITC (3C4)
Only %1 left
Cat. No.:
1925-02,
1925-02S
FITC Anti-Mouse CD102 antibody for use in flow cytometry and immunohistochemistry / immunocytochemistry assays.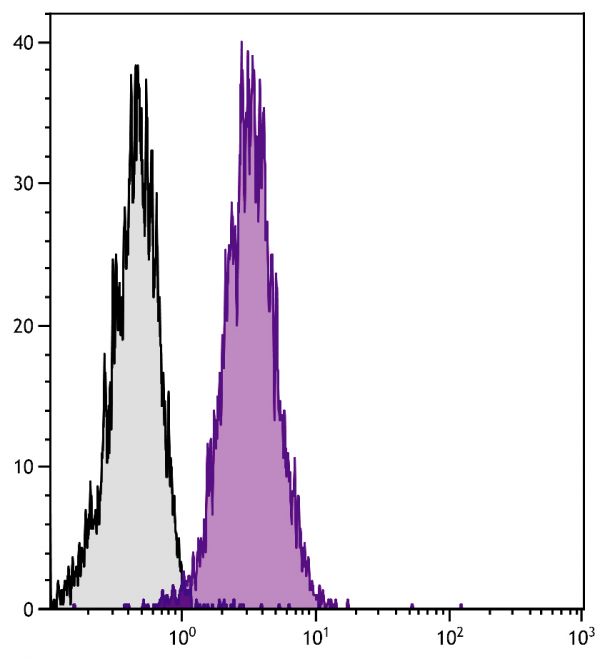 More Information
Clone
3C4
Isotype
Rat (Lewis) IgG2aκ
Isotype Control
Rat IgG2a-FITC (KLH/G2a-1-1)
Specificity
Mouse CD102
Alternative Names
ICAM-2, intercellular adhesion molecule-2
Description
The 3C4 monoclonal antibody reacts with the cell surface glycoprotein mouse CD102 (ICAM-2), a ligand for the leucocyte integrin CD11a/CD18 (LFA-1). CD102 is constitutively expressed on T cells, B cells, and at high levels on vascular endothelial cells. It is also expressed on a variety of leukocyte cell lines. The 3C4 antibody blocks the interaction between ICAM-2 and LFA-1.
Immunogen
COS cells transfected with mouse ICAM-2 cDNA and BW5147 AKR/J mouse thymoma cell line
Conjugate
FITC (Fluorescein)
Buffer Formulation
Phosphate buffered saline containing < 0.1% sodium azide
Clonality
Monoclonal
Concentration
0.1 mg/mL, 0.5 mg/mL
Volume
1.0 mL
Recommended Storage
2-8°C; Avoid exposure to light
Applications
Flow Cytometry – Quality tested 1,5
Immunohistochemistry-Frozen Sections – Reported in literature 2,3
Immunocytochemistry – Reported in literature 4,5
Immunoprecipitation – Reported in literature 1
Blocking – Reported in literature 1


RRID Number
AB_2795540
Gene ID
15896 (Mouse)

Gene ID Symbol
Icam2 (Mouse)

Gene ID Aliases
CD102; Icam-2; Ly-60
UniProt ID
P35330 (Mouse)

UniProt Name
ICAM2_MOUSE (Mouse)

Documentation
---
Certificate of Analysis Lookup
Enter the Catalog Number and Lot Number for the Certificate of Analysis you wish to view
Need help with this product?
1. Xu H, Bickford JK, Luther E, Carpenito C, Takei F, Springer TA. Characterization of murine intercellular adhesion molecule-2. J Immunol. 1996;156:4909-14. (Immunogen, FC, IP, Block)
2. Cao G, Savani RC, Fehrenbach M, Lyons C, Zhang L, Coukos G, et al. Involvement of endothelial CD44 during in vivo angiogenesis. Am J Pathol. 2006;169:325-36. (IHC-FS)
3. Cao G, Fehrenbach ML, Williams JT, Finklestein JM, Zhu J, DeLisser HM. Angiogenesis in platelet endothelial cell adhesion molecule-1-null mice. Am J Pathol. 2009;175:903-15. (IHC-FS)
4. Shin J, Lee JC, Baek K. A single extra copy of Dscr1 improves survival of mice developing spontaneous lung tumors through suppression of tumor angiogenesis. Cancer Lett. 2014;342:70-81. (ICC)
5. Fehrenbach ML, Cao G, Williams JT, Finklestein JM, DeLisser HM. Isolation of murine lung endothelial cells. Am J Physiol Lung Cell Mol Physiol. 2009;296:L1096-1103. (ICC, FC)