Rat Anti-Mouse CD11b-BIOT (M1/70)
Biotin Anti-Mouse CD11b antibody for use in flow cytometry, immunohistochemistry / immunocytochemistry, and immunoprecipitation assays.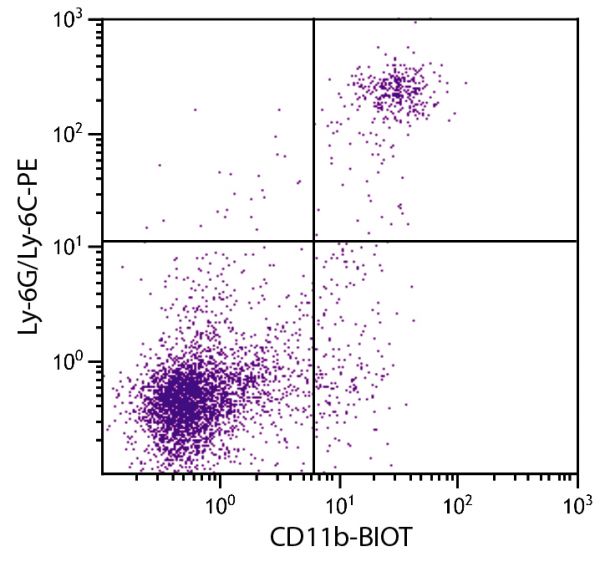 More Information
Clone
M1/70
Isotype
Rat (Dark Agouti) IgG2bκ
Isotype Control
Rat IgG2b-BIOT (KLH/G2b-1-2)
Specificity
Mouse/Human/Rhesus/Baboon/Rabbit CD11b
Alternative Names
Integrin αM, Mac-1α, Mac-1, Mo1, CR3, C3biR
Description
CD11b, the integrin αM subunit, combines with CD18, the integrin β2 subunit, to form the integrin Mac-1, also known as complement receptor 3 (CR3), which mediates adhesion to C3bi and ICAM-1/CD54. Mac-1 is expressed at varying levels on granulocytes, macrophages, dendritic cells, NK cells, and B-1 cells in the peritoneal and pleural cavities. Mac-1 expression is rapidly up-regulated on neutrophils after activation and in the same time period that CD62L is shed from the cell surface. In addition to its role in binding C3bi on opsonized targets and mediation of the subsequent ingestion process, Mac-1 is important as an adhesion molecule in the transendothelial migration of monocytes and neutrophils. Cross-reaction of M1/70 to human CD11b has been observed on monocytes, polymorphonuclear leukocytes, and NK cells.
Immunogen
C57BL/10 mouse splenic T cells and concanavalin A-activated C57BL/10 splenocytes
Conjugate
BIOT (Biotin)
Buffer Formulation
Phosphate buffered saline containing < 0.1% sodium azide
Clonality
Monoclonal
Concentration
0.5 mg/mL
Volume
1.0 mL
Recommended Storage
2-8°C
Applications
Flow Cytometry – Quality tested 2,5,7-10
Immunohistochemistry-Frozen Sections – Reported in literature 3,4
Immunohistochemistry-Paraffin Sections – Reported in literature 12,13
Immunocytochemistry – Reported in literature 14
Immunoprecipitation – Reported in literature 1,2,7
Blocking – Reported in literature 6


RRID Number
AB_2794913
Gene ID
16409 (Mouse)
3684 (Human)
714832 (Rhesus)
101004087 (Baboon)
100351865 (Rabbit)

Gene ID Symbol
Itgam (Mouse)
ITGAM (Human)
ITGAM (Rhesus)
ITGAM (Baboon)
ITGAM (Rabbit)

Gene ID Aliases
CR3; CR3A; MAC1; Cd11b; Ly-40; Mac-1; Mac-1a; CD11b/CD18; F730045J24Rik; MO1A; CD11B; MAC-1; MAC1A; SLEB6
UniProt ID
P05555 (Mouse)
P11215 (Human)

UniProt Name
ITAM_MOUSE (Mouse)
ITAM_HUMAN (Human)

Documentation
---
Certificate of Analysis Lookup
Enter the Catalog Number and Lot Number for the Certificate of Analysis you wish to view
Need help with this product?
1. Springer T, Galfré G, Secher DS, Milstein C. Monoclonal xenogeneic antibodies to murine cell surface antigens: identification of novel leukocyte differentiation antigens. Eur J Immunol. 1978;8:539-51. (Immunogen, IP)
2. Springer T, Galfré G, Secher DS, Milstein C. Mac-1: a macrophage differentiation antigen identified by monoclonal antibody. Eur J Immunol. 1979;9:301-6. (IP, FC)
3. Igarashi T, Miyake K, Hayakawa J, Kawabata K, Ishizaki M, Takahashi H, et al. Apoptotic cell death and regeneration in the newborn retina after irradiation prior to bone marrow transplantation. Current Eye Res. 2007;32:543-53. (IHC-FS)
4. Kosuge H, Ishihara T, Haraguchi G, Maejima Y, Okada H, Saiki H, et al. Treatment with telmisartan attenuates graft arteriosclerosis in murine cardiac allografts. J Heart Lung Transplant. 2010;29:562-7. (IHC-FS)
5. Ault KA, Springer TA. Cross-reaction of a rat-anti-mouse phagocyte-specific monoclonal antibody (anti-Mac-1) with human monocytes and natural killer cells. J Immunol. 1981;126:359-64. (FC, Human Reactivity)
6. Beller DI, Springer TA, Schreiber RD. Anti-Mac-1 selectively inhibits the mouse and human type three complement receptor. J Exp Med. 1982;156:1000-9. (Block, Human Reactivity)
7. Martin A, Le Corre R, Pellen P, Bourel D, Merdrignac G, Genetet B, et al. A monoclonal antibody (3A33) that reacts with a mouse-specific epitope of Mac-1 antigen. Tissue Antigens. 1986;28:15-23. (IP, FC)
8. Pevsner-Fischer M, Morad V, Cohen-Sfady M, Rousso-Noori L, Zanin-Zhorov A, Cohen S, et al. Toll-like receptors and their ligands control mesenchymal stem cell functions. Blood. 2007;109:1422-32. (FC)
9. Barton RW, Rothlein R, Ksiazek J, Kennedy C. The effect of anti-intercellular adhesion molecule-1 on phorbol-ester-induced rabbit lung inflammation. J Immunol. 1989;143:1278-82. (FC, Rabbit Reactivity)
10. Marcondes MC, Flynn C, Huitron-Rezendiz S, Watry DD, Zandonatti M, Fox HS. Early antiretroviral treatment prevents the development of central nervous system abnormalities in simian immunodeficiency virus-infected rhesus monkeys. AIDS. 2009;23:1187-95. (FC, Rhesus Reactivity)
11. del Zappo GJ, Frankowski H, Gu Y, Osada T, Kanazawa M, Milner R, et al. Microglial cell activation is a source of metalloproteinase generation during hemorrhagic transformation. J Cereb Blood Flow Metab. 2012;32:919-32. (Baboon Reactivity)
12. Sata M, Sugiura S, Yoshizumi M, Ouchi Y, Hirata Y, Nagai R. Acute and chronic smooth muscle cell apoptosis after mechanical vascular injury can occur independently of the Fas-death pathway. Arterioscler Thromb Vasc Biol. 2001;21:1733-7. (IHC-PS)
13. Dineen SP, Lynn KD, Holloway SE, Miller AF, Sullivan JP, Shames DS, et al. Vascular endothelial growth factor receptor 2 mediates macrophage infiltration into orthotopic pancreatic tumors in mice. Cancer Res. 2008;68:4340-6. (IHC-PS)
14. Mizgerd JP, Horwitz BH, Quillen HC, Scott ML, Doerschuk CM. Effects of CD18 deficiency on the emigration of murine neutrophils during pneumonia. J Immunol. 1999;163:995-9. (ICC)