Rat Anti-Mouse CD90.2-APC (30-H12)
APC Anti-Mouse CD90.2 antibody for use in flow cytometry assays.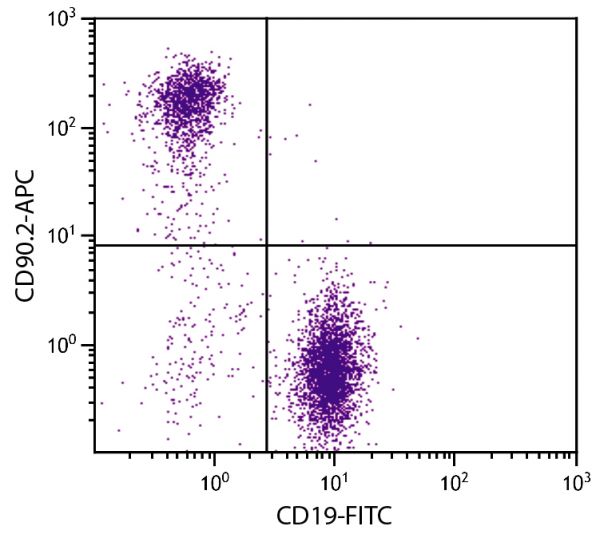 More Information
Clone
30-H12
Isotype
Rat (LOU/Ws1/M) IgG2bκ
Isotype Control
Rat IgG2b-APC (KLH/G2b-1-2)
Specificity
Mouse CD90.2
Alternative Names
Thy-1.2
Description
CD90 (Thy-1) is a GPI-anchored molecule and one of the smallest members of the immunoglobulin superfamily consisting of a single V-set domain. The Thy-1.2 alloantigen is expressed on all thymocytes, peripheral T lymphocytes, and some intraepithelial T cells of most mouse strains. It is also expressed in the brain and at varying levels on other non-lymphoid tissues. The 30-H12 monoclonal antibody does not cross react with mouse and rat strains bearing the Thy-1.1 alloantigen (e.g., AKR/J, PL).
Immunogen
Mouse thymus or spleen
Conjugate
APC (Allophycocyanin)
Buffer Formulation
Phosphate buffered saline containing < 0.1% sodium azide and a stabilizer
Clonality
Monoclonal
Concentration
0.1 mg/mL
Volume
1.0 mL
Recommended Storage
2-8°C; Avoid exposure to light; Do not freeze
Applications
Flow Cytometry – Quality tested 1,2,9,10
Immunohistochemistry-Frozen Sections – Reported in literature 2,3
Immunocytochemistry – Reported in literature 4
Immunoprecipitation – Reported in literature 1
Depletion – Reported in literature 5,6
Costimulation – Reported in literature 7,8
Apoptosis – Reported in literature 7,8


RRID Number
AB_2795236
Gene ID
21838 (Mouse)

Gene ID Symbol
Thy1 (Mouse)

Gene ID Aliases
T25; CD90; Thy-1; Thy1.1; Thy1.2; Thy-1.2
UniProt ID
P01831 (Mouse)

UniProt Name
THY1_MOUSE (Mouse)

Documentation
---
Certificate of Analysis Lookup
Enter the Catalog Number and Lot Number for the Certificate of Analysis you wish to view
Need help with this product?
1. Ledbetter JA, Herzenberg LA. Xenogeneic monoclonal antibodies to mouse lymphoid differentiation antigens. Immunol Rev. 1979;47:63-90. (Immunogen, FC, IP)
2. Ledbetter JA, Rouse RV, Micklem HS, Herzenberg LA. T cell subsets defined by expression of Lyt-1,2,3 and Thy-1 antigens. Two-parameter immunofluorescence and cytotoxicity analysis with monoclonal antibodies modifies current views. J Exp Med. 1980;152:280-95. (FC, IHC-FS)
3. Folgosa L, Zellner HB, El Shikh ME, Conrad DH. Disturbed follicular architecture in B cell A disintegrin and metalloproteinase (ADAM)10 knockouts is mediated by compensatory increases in ADAM17 and TNF-α shedding. J Immunol. 2013;191:5951-8. (IHC-FS)
4. Sharma N, Suzuki H, He Q, Sharma RP. Tumor necrosis factor α-mediated activation of c-Jun NH2-terminal kinase as a mechanism for fumonisin B1 induced apoptosis in murine primary hepatocytes. J Biochem Mol Toxicol. 2005;19:359-67. (ICC)
5. Sharma N, He Q, Sharma RP. Amelioration of fumonisin B1 hepatotoxicity in mice by depletion of T cells with anti-Thy-1.2. Toxicology. 2006;223:191-201. (Depletion)
6. Stevenson MM, Tam MF. Differential induction of helper T cell subsets during blood-stage Plasmodium chabaudi AS infection in resistant and susceptible mice. Clin Exp Immunol. 1993;92:77-83. (Depletion)
7. Nakashima I, Zhang Y, Rahman SM, Yoshida T, Isobe K, Ding L, et al. Evidence of synergy between Thy-1 and CD3/TCR complex in signal delivery to murine thymocytes for cell death. J Immunol. 1991;147:1153-62. (Costim, Apop)
8. Nakashima I, Pu M, Hamaguchi M, Iwamoto T, Rahman SM, Zhang Y, et al. Pathway of signal delivery to murine thymocytes triggered by co-crosslinking CD3 and Thy-1 for cellular DNA fragmentation and growth inhibition. J Immunol. 1993;151:3511-20. (Costim, Apop)
9. Morecki S, Yacovlev E, Gelfand Y, Eizik O, Slavin S. Pretransplant treatment of donors with immunomodulators to control graft-versus-host disease (GVHD) in transplant recipients. Exp Hematol. 2007;35:748-56. (FC)
10. Chaimowitz NS, Martin RK, Cichy J, Gibb DR, Patil P, Kang D, et al. A disintegrin and metalloproteinase 10 regulates antibody production and maintenance of lymphoid architecture. J Immunol. 2011;187:5114-22. (FC)