Donkey F(ab')2 Anti-Rabbit IgG(H+L), Mouse/Rat/Human SP ads-HRP
Donkey F(ab')2 Anti-Rabbit IgG(H+L), Mouse/Rat/Human SP ads-HRP
Donkey F(ab')2 Anti-Rabbit IgG(H+L)-HRP antibody with minimal reactivity to human, mouse, and rat serum proteins for use in ELISA assays.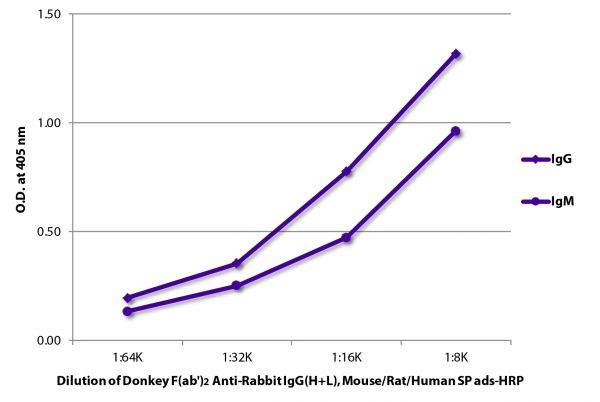 More Information
Isotype
Donkey F(ab')2 IgG
Specificity
Reacts with the heavy and light chains of rabbit IgG and the light chains of rabbit IgM
Source
Pepsin digest of Donkey Anti-Rabbit IgG(H+L), Mouse/Rat/Human SP ads (SB Cat. No. 6440)
Cross Adsorption
Mouse, rat, and human serum proteins (SP); may react with immunoglobulins from other species and the light chains of other rabbit immunoglobulins
Conjugate
HRP (Horseradish Peroxidase)
Buffer Formulation
50% Glycerol/50% Phosphate buffered saline, pH 7.4
Clonality
Polyclonal
Concentration
Lot specific
Volume
1.0 mL
Recommended Storage
2-8°C
Applications
Quality tested applications for relevant formats include -
ELISA
FLISA


RRID Number
AB_2796392
Documentation
---
Certificate of Analysis Lookup
Enter the Catalog Number and Lot Number for the Certificate of Analysis you wish to view
Need help with this product?
Related Products
Related Products
Check items to add to the cart or