Hamster Anti-Mouse CD79b-BIOT (HM79-12)
Biotin Anti-Mouse CD79b antibody for use in flow cytometry, western blot, and immunoprecipitation assays.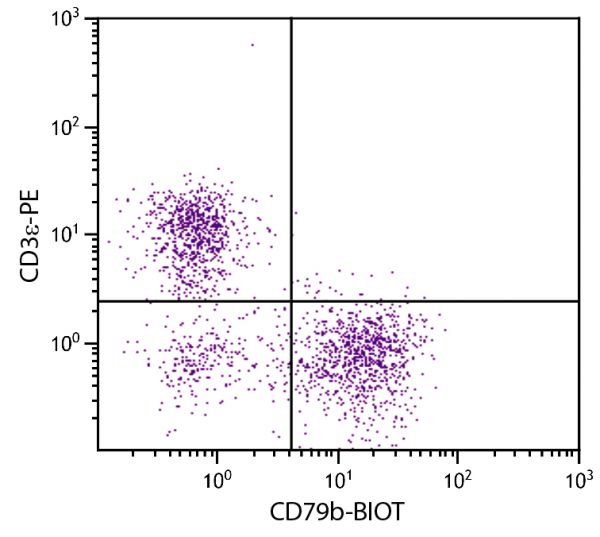 More Information
Clone
HM79-12
Isotype
Hamster (Armenian) IgG1
Isotype Control
Hamster IgG-BIOT
Specificity
Mouse CD79b
Alternative Names
B29, Igβ
Description
Murine CD79 is a disulfide-linked heterodimer composed of an α chain (CD79a) and a β chain (CD79b) that associates non-covalently with membrane immunoglobulin (Ig) to form the B cell receptor (BCR) complex. Its expression is restricted to B lymphocytes first appearing on the surface at the pro-B cell stage prior to productive Ig gene rearrangements and remaining through all stages of B-cell differentiation prior to plasma cells. It has been proposed that the CD79 complex on pro-B cell surfaces may function to induce early B-cell differentiation.
Immunogen
CD79α/CD79β heterodimers purified from mouse (BALB/c x NZB)F1 B cell lymphoma cells, WEHI231
Conjugate
BIOT (Biotin)
Buffer Formulation
Phosphate buffered saline containing < 0.1% sodium azide
Clonality
Monoclonal
Concentration
0.5 mg/mL
Volume
1.0 mL
Recommended Storage
2-8°C
Applications
Flow Cytometry – Quality tested 1-3
Immunoprecipitation – Reported in literature 1,2
Western Blot – Reported in literature 1


RRID Number
AB_2795406
Gene ID
15985 (Mouse)

Gene ID Symbol
Cd79b (Mouse)

Gene ID Aliases
B29; Ig-beta; Igb; Igbeta
UniProt ID
P15530 (Mouse)

UniProt Name
CD79B_MOUSE (Mouse)

Documentation
---
Certificate of Analysis Lookup
Enter the Catalog Number and Lot Number for the Certificate of Analysis you wish to view
Need help with this product?
1. Koyama M, Ishihara K, Karasuyama H, Cordell JL, Iwamoto A, Nakamura T. CD79α/CD79β heterodimers are expressed on pro-B cell surfaces without associated μ heavy chain. Int Immunol. 1997;9:1767-72. (Immunogen, FC, IP, WB)
2. Kato I, Miyazaki T, Nakamura T, Kudo A. Inducible differentiation and apoptosis of the pre-B cell receptor-positive pre-B cell line. Int Immunol. 2000;12:325-34. (IP, FC)
3. McHeyzer-Williams LJ, Cool M, McHeyzer-Williams MG. Antigen-specific B cell memory: expression and replenishment of a novel b220(-) memory b cell compartment. J Exp Med. 2000;191:1149-65. (FC)