Mouse Anti-Human FADD-UNLB (1A11)
Purified Anti-Human FADD antibody for use in ELISA, western blot, and immunoprecipitation assays.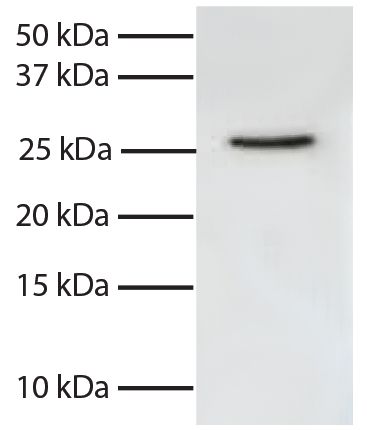 More Information
Clone
1A11
Isotype
Mouse (BALB/c) IgG1κ
Isotype Control
Mouse IgG1-UNLB (15H6)
Specificity
Human FADD
Alternative Names
FAS-associated death domain protein, GIG3, MGC8528, MORT1
Description
Fas-associated death domain (FADD, also known as MORT1) is an important apoptosis adapter molecule involved in the Fas-mediated cell death pathway. FADD associates with the intracellular domain of FAS (CD95/APO-1) through their respective C-terminal death domains (DD). The N-terminal region of FADD contains a death effectors domain (DED) which recruits and binds cytosolic proteins such as FLICE/caspase-8. The subsequent activation of FLICE by proteolytic cleavage leads to the activation of the caspase-mediated (ICE-related proteases) apoptotic cascade. Overexpression of FADD induces apoptosis which is inhibited by CrmA, a specific inhibitor of the interleukin-1β-converting enzyme. FADD has also been shown under certain circumstances to promote cell survival and proliferation.
Immunogen
Recombinant FADD
Conjugate
UNLB (Unconjugated)
Buffer Formulation
Borate buffered saline, pH 8.2
Clonality
Monoclonal
Concentration
0.5 mg/mL
Volume
0.2 mL
Recommended Storage
2-8°C
Applications
ELISA – Quality tested
Western Blot – Quality tested
Immunoprecipitation – Quality tested


RRID Number
AB_2794559
Gene ID
8772 (Human)

Gene ID Symbol
FADD (Human)

Gene ID Aliases
GIG3; MORT1
UniProt ID
Q13158 (Human)

UniProt Name
FADD_HUMAN (Human)

Documentation
---
Certificate of Analysis Lookup
Enter the Catalog Number and Lot Number for the Certificate of Analysis you wish to view
Need help with this product?