Rat Anti-Mouse CD18-PE (C71/16)
PE Anti-Mouse CD18 antibody for use in flow cytometry assays.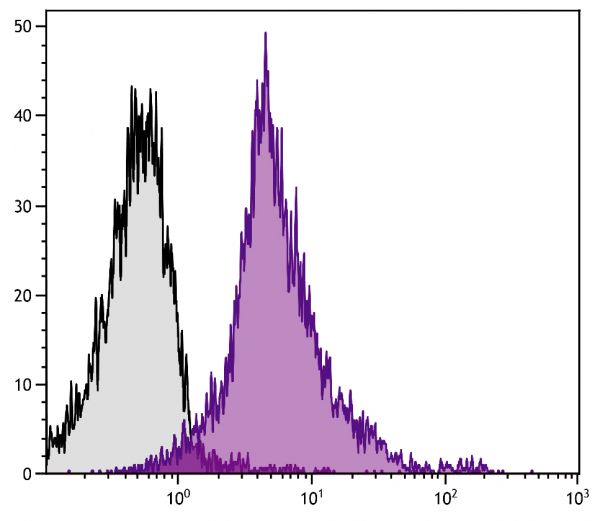 More Information
Clone
C71/16
Isotype
Rat (Lewis) IgG2aκ
Isotype Control
Rat IgG2a-PE (KLH/G2a-1-1)
Specificity
Mouse CD18
Alternative Names
Integrin β2, ITGB2
Description
CD18 represents the common β2 integrin subunit that associates non-covalently with the α/β chains of CD11a, CD11b, and CD11c to form various integrin heterodimers. It is expressed strongly on lymphocytes and monocytes and weakly on granulocytes. CD18 mediates a variety of heterotypic and homotypic intercellular adhesion reactions and it regulates the ligand-binding activates of the various CD11/CD18 complexes. The monoclonal antibody C71/16 has not been reported to inhibit cell adhesion.
Immunogen
Cell membrane glycoproteins derived from mouse BW5147 T cell lymphoma cells
Conjugate
PE (R-phycoerythrin)
Buffer Formulation
Phosphate buffered saline containing < 0.1% sodium azide and a stabilizer
Clonality
Monoclonal
Concentration
0.1 mg/mL
Volume
1.0 mL
Recommended Storage
2-8°C; Avoid exposure to light; Do not freeze
Applications
Flow Cytometry – Quality tested 2
Immunohistochemistry-Frozen Sections – Reported in literature 3
Immunohistochemistry-Paraffin Sections – Reported in literature 4
Immunocytochemistry – Reported in literature 2
Immunoprecipitation – Reported in literature 1,2
Western Blot – Reported in literature 2
ELISA – Reported in literature 5


RRID Number
AB_2794943
Gene ID
16414 (Mouse)

Gene ID Symbol
Itgb2 (Mouse)

Gene ID Aliases
2E6; LAD; Cd18; Lfa1; MF17; LCAMB; AI528527
UniProt ID
P11835 (Mouse)

UniProt Name
ITB2_MOUSE (Mouse)

Documentation
---
Certificate of Analysis Lookup
Enter the Catalog Number and Lot Number for the Certificate of Analysis you wish to view
Need help with this product?
1. Trowbridge IS, Omary MB. Molecular complexity of leukocyte surface glycoproteins related to the macrophage differentiation antigen Mac-1. J Exp Med. 1981;154:1517-24. (Immunogen, IP)
2. Choi EY, Orlova VV, Fagerholm SC, Nurmi SM, Chang L, Ballantyne CM, et al. Regulation of LFA-1-dependent inflammatory cell recruitment by Cbl-b and 14-3-3 proteins. Blood. 2008;111:3607-14. (IP, WB, ICC, FC)
3. Bullard DC, Scharffetter-Kochanek K, McArthur MJ, Chosay JG, McBride ME, Montgomery CA, et al. A polygenic mouse model of psoriasiform skin disease in CD18-deficient mice. Proc Natl Acad Sci USA. 1996;93:2116-21. (IHC-FS)
4. Gerth AJ, Lin L, Neurath MF, Glimcher LH, Peng SL. An innate cell-mediated, murine ulcerative colitis-like syndrome in the absence of nuclear factor of activated T cells. Gastroenterology. 2004;126:1115-21. (IHC-PS)
5. Shirakabe K, Shibagaki Y, Yoshimura A, Koyasu S, Hattori S. A proteomic approach for the elucidation of the specificity of ectodomain shedding. J Proteomics. 2014;98:233-43. (ELISA)