Rat Anti-Mouse CD2-UNLB (12-15)
Purified Anti-Mouse CD2 antibody for use in flow cytometry, immunoprecipitation, blocking, separation, and purification assays.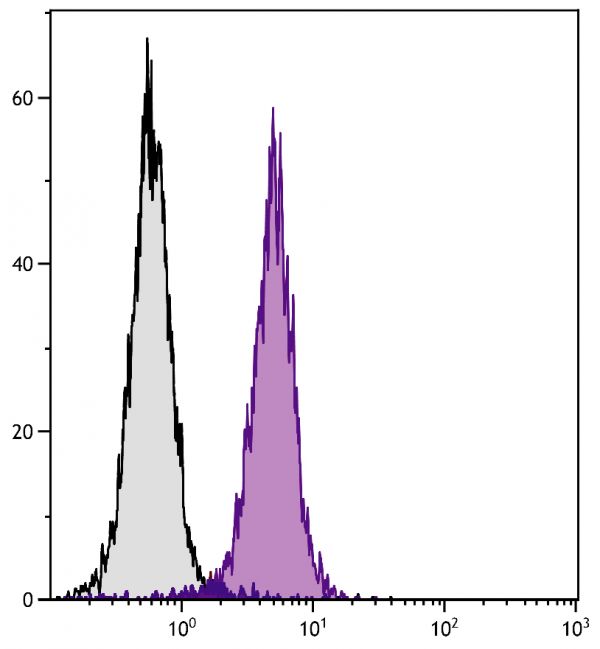 More Information
Clone
12-15
Isotype
Rat (Sprague Dawley) IgG1κ
Isotype Control
Rat IgG1-UNLB (KLH/G1-2-2)
Specificity
Mouse CD2
Alternative Names
LFA-2, T11, Ly37, SRBC-R, Leu-5, LFA-3 receptor
Description
CD2, also known as leukocyte function-associated antigen-2 (LFA-2), is a member of the immunoglobulin superfamily of cell adhesion molecules. It is expressed on the surface of >95% of thymocytes, and essentially all B cells, T cells and NK cells. In the mouse, CD2 is the receptor for CD48. CD2 is thought to play a major role in mediating T-cell adhesion, T-cell recognition/activation, T-cell signaling, and intrathymic differentiation.
Immunogen
Crude plasma membranes of ESb cells
Conjugate
UNLB (Unconjugated)
Buffer Formulation
Borate buffered saline, pH 8.2
Clonality
Monoclonal
Concentration
0.5 mg/mL
Volume
1.0 mL
Recommended Storage
2-8°C
Applications
Flow Cytometry – Quality tested 1,7,9
Immunoprecipitation – Reported in literature 1,7
Separation – Reported in literature 2
Blocking – Reported in literature 3-7
Purification – Reported in literature 1,8


RRID Number
AB_2794791
Gene ID
12481 (Mouse)

Gene ID Symbol
Cd2 (Mouse)

Gene ID Aliases
Ly37; LFA-2; Ly-37
UniProt ID
P08920 (Mouse)

UniProt Name
CD2_MOUSE (Mouse)

Documentation
---
Certificate of Analysis Lookup
Enter the Catalog Number and Lot Number for the Certificate of Analysis you wish to view
Need help with this product?
1. Altevogt P, Heckl-Oestreicher G, Lang E, Kohl U, Kratzin H, Schirrmacher V. Murine Fcγ receptor proteins: identification of a previously unrecognized molecule with a monoclonal antibody (12-15). Eur J Immunol. 1988;18:677-83. (Immunogen, FC, Purification, IP)
2. Fushimi S, Ogino T, Hara J, Takahata T, Wakabayashi H, Watanabe H, et al. Forced expression of suppressor of cytokine signaling 3 in T cells protects the development of concanavalin A-induced hepatitis in mice. Clin Immunol. 2009;133:437-46. (Sep)
3. Bai Y, Liu J, Wang Y, Honig S, Qin L, Boros P, et al. L-selectin-dependent lymphoid occupancy is required to induce alloantigen-specific tolerance. J Immunol. 2002;168:1579-89. (Block)
4. Ochando JC, Yoop AC, Yang Y, Garin A, Li Y, Boros P, et al. Lymph node occupancy is required for the peripheral development of alloantigen-specific Foxp3+ regulatory T cells. J Immunol. 2005;174:6993-7005. (Block)
5. Qin L, Chavin KD, Lin J, Yagita H, Bromberg JS. Anti-CD2 receptor and anti-CD2 ligand (CD48) antibodies synergize to prolong allograft survival. J Exp Med. 1994;179:341-6. (Block)
6. Chavin KD, Qin L, Lin J, Woodward JE, Baliga P, Bromberg JS. Combination anti-CD2 and anti-CD3 monoclonal antibodies induce tolerance while altering interleukin-2, interleukin-4, tumor necrosis factor, and transforming growth factor-β production. Ann Surg. 1993;218:492-503. (Block)
7. Altevogt P, Kohl U, Von Hoegen P, Lang E, Schirrmacher V. Antibody 12-15 cross-reacts with mouse Fcγ receptors and CD2: study of thymus expression, genetic polymorphism and biosysthesis of the CD2 protein. Eur J Immunol. 1989;19:341-6. (FC, IP, Block)
8. Ruppert M, Aigner S, Hubbe M, Yagita H, Altevogt P. The L1 adhesion molecule is a cellular ligand for VLA-5. J Cell Biol. 1995;131:1881-91. (Purification)
9. Avagyan S, Glouchkova L, Choi J, Snoeck H. A quantitative trait locus on chromosome 4 affects cycling of hematopoietic stem and progenitor cells through regulation of TGF-β2 responsiveness. J Immunol. 2008;181:5904-11. (FC)