Rat Anti-Mouse CD24-FITC (91)
FITC Anti-Mouse CD24 antibody for use in flow cytometry and immunohistochemistry assays.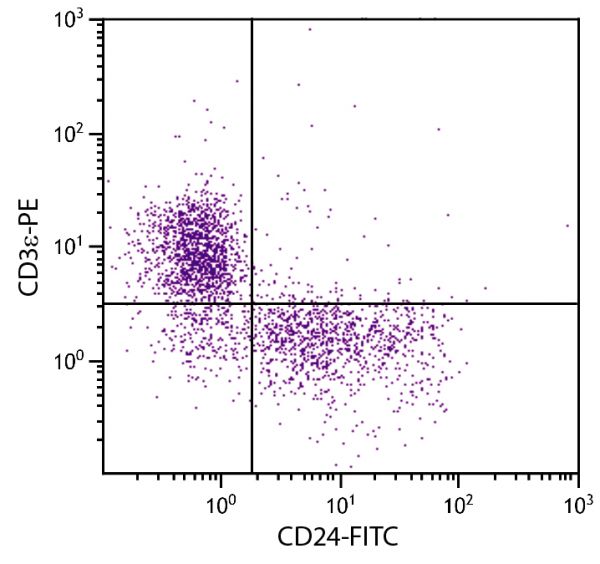 More Information
Clone
91
Isotype
Rat IgG2aκ
Isotype Control
Rat IgG2a-FITC (KLH/G2a-1-1)
Specificity
Mouse CD24
Alternative Names
Heat stable antigen, HSA
Description
CD24, also known as heat stable antigen, is a phosphatidylinositol-linked cell surface glycoprotein that is expressed at all stages of B cell development and on most thymocytes. The absence of expression from mature T cells is closely associated with their maturation from CD4+CD8+CD24+ thymocytes to either CD4+CD8-CD24- or CD4-CD8+CD24- T cells. CD24 is also present on mouse granulocytes, monocytes, Langerhans cells and erythrocytes. Its ligand is P-selectin (CD62P). CD24 may play a role in regulation of B cell proliferation and differentiation, and it has been proposed that heat stable antigen promotes homotypic adhesion between B lymphocytes.
Conjugate
FITC (Fluorescein)
Buffer Formulation
Phosphate buffered saline containing < 0.1% sodium azide
Clonality
Monoclonal
Concentration
0.5 mg/mL
Volume
1.0 mL
Recommended Storage
2-8°C; Avoid exposure to light
Applications
Flow Cytometry – Quality tested 2
Immunohistochemistry-Frozen Sections – Reported in literature 1


RRID Number
AB_2794991
Gene ID
12484 (Mouse)

Gene ID Symbol
Cd24a (Mouse)

Gene ID Aliases
HSA; Cd24; Ly-52; nectadrin
UniProt ID
P24807 (Mouse)

UniProt Name
CD24_MOUSE (Mouse)

Documentation
---
Certificate of Analysis Lookup
Enter the Catalog Number and Lot Number for the Certificate of Analysis you wish to view
Need help with this product?
1. Frings PW, Van Elssen CH, Wieten L, Matos C, Hupperets PS, Schouten HC, et al. Elimination of the chemotherapy resistant subpopulation of 4T1 mouse breast cancer by haploidentical NK cells cures the vast majority of mice. Breast Cancer Res Treat. 2011;130:773-81. (IHC-FS)
2. Zhou X, Bailey-Bucktrout S, Jeker LT, Penaranda C, Martinez-Llordella M, Ashby M, et al. Foxp3 instability leads to the generation of pathogenic memory T cells in vivo. Nat Immunol. 2009;10:1000-7. (FC)