Rat Anti-Mouse CD44-FITC (KM201)
FITC Anti-Mouse CD44 antibody for use in flow cytometry, immunohistochemistry / immunocytochemistry, and western blot assays.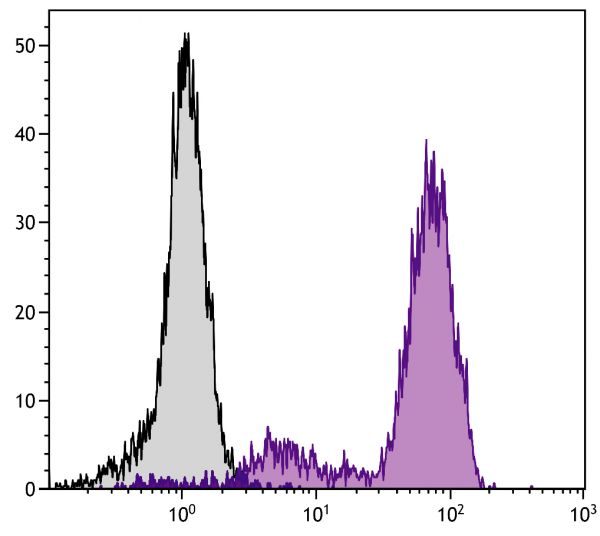 More Information
Clone
KM201
Isotype
Rat (LOU/MN) IgG1κ
Isotype Control
Rat IgG1-FITC (KLH/G1-2-2)
Specificity
Mouse CD44 (all isoforms)
Alternative Names
Pgp-1, H-CAM, HUTCH-1, ECMR-III
Description
CD44 represents a family of type I transmembrane glycoproteins expressed on many cell types such as B cells, monocytes, macrophages, and variable subsets of thymocytes and peripheral T cells. CD44 primarily functions as an adhesion molecule. It has been implicated in various processes, such as hematopoiesis, lymphocyte homing, leukocyte activation, tumor metastasis and development. The KM201 monoclonal antibody reacts with an epitope very close to the hyaluronate binding domain on the CD44 molecule. KM201 can inhibit hyaluronate-dependent cell aggregation, prevent lympho-hemopoiesis in both Dexter and Whitlock-Witte cultures, prevent the earliest intrathymic precursors from homing to the thymus, and costimulate the activation of freshly purified splenic CD4+ T cells.
Immunogen
(C57BL/6 x DBA/2)F1 mouse bone marrow-derived stromal clone BMS2
Conjugate
FITC (Fluorescein)
Buffer Formulation
Phosphate buffered saline containing < 0.1% sodium azide
Clonality
Monoclonal
Concentration
0.5 mg/mL
Volume
1.0 mL
Recommended Storage
2-8°C; Avoid exposure to light
Applications
Flow Cytometry – Quality tested 1,3,4,8-12
Immunohistochemistry-Frozen Sections – Reported in literature 2
Immunohistochemistry-Paraffin Sections – Reported in literature 4
Immunocytochemistry – Reported in literature 5
Immunoprecipitation – Reported in literature 1,5,7
Western Blot – Reported in literature 3-5,7
Blocking – Reported in literature 5,6
Adhesion – Reported in literature 4,7


RRID Number
AB_2794773
Gene ID
12505 (Mouse)

Gene ID Symbol
Cd44 (Mouse)

Gene ID Aliases
Ly-24; Pgp-1; HERMES; AU023126; AW121933; AW146109
UniProt ID
P15379 (Mouse)

UniProt Name
CD44_MOUSE (Mouse)

Documentation
---
Certificate of Analysis Lookup
Enter the Catalog Number and Lot Number for the Certificate of Analysis you wish to view
Need help with this product?
1. Miyake K, Medina KL, Hayashi S, Ono S, Hamaoka T, Kincade PW. Monoclonal antibodies to Pgp-1-CD44 block lympho-hemopoiesis in long-term bone marrow cultures. J Exp Med. 1990;171:477-88. (Immunogen, FC, IP, Adhesion)
2. Cheng G, Swaidani S, Sharma M, Lauer ME, Hascall VC, Aronica MA. Correlation of hyaluronan deposition with infiltration of eosinophils and lymphocytes in a cockroach-induced murine model of asthma. Glycobiology. 2013;23:43-58. (IHC-FS)
3. Takano H, Nakazawa S, Shirata N, Tamba S, Furuta K, Tsuchiya S, et al. Involvement of CD44 in mast cell proliferation during terminal differentiation. Lab Invest. 2009;89:446-55. (WB, FC)
4. Schmits R, Filmus J, Gerwin N, Senaldi G, Kiefer F, Kundig T, et al. CD44 regulates hematopoietic progenitor distribution, granuloma formation, and tumorigenicity. Blood. 1997;90:2217-33. (WB, IHC-PS, FC, Adhesion)
5. Craig EA, Parker P, Austin AF, Barnett JV, Camenisch TD. Involvement of the MEKK1 signaling pathway in the regulation of epicardial cell behavior by hyaluronan. Cell Signal. 2010;22:968-76. (WB, IP, ICC, Block)
6. Craig EA, Parker P, Camenisch TD. Size-dependent regulation of Snail2 by hyaluronan: Its role in cellular invasion. Glycobiology. 2009;19:890-8. (Block)
7. He Q, Lesley J, Hyman R, Ishihara K, Kincade PW. Molecular isoforms of murine CD44 and evidence that the membrane proximal domain is not crital for hyaluronate recognition. J Cell Biol. 1992;119:1711-9. (WB, IP, Adhesion)
8. Wright MH, Calcagno AM, Salcido CD, Carlson MD, Ambudkar SV, Varticovski L. Brca1 breast tumors contain distinct CD44+/CD24- and CD133+ cells with cancer stem cell characteristics. Breast Cancer Res. 2008;10(1):R10. (FC)
9. Motohashi N, Uezumi A, Yada E, Fukada S, Fukushima K, Imaizumi K, et al. Muscle CD31(-) CD45(-) side population cells promote muscle regeneration by stimulating proliferation and migration of myoblasts. Am J Pathol. 2008;173:781-91. (FC)
10. Wiranowska M, Ladd S, Moscinski LC, Hill B, Haller E, Mikecz K, et al. Modulation of hyaluronan production by CD44 positive glioma cells. Int J Cancer. 2010;127:532-42. (FC)
11. Baird JR, Fox BA, Sanders KL, Lizotte PH, Cubillos-Ruiz JR, Scarlett UK, et al. Avirulent Toxoplasma gondii generates therapeutic antitumor immunity by reversing immunosuppression in the ovarian cancer microenvironment. Cancer Res. 2013;73:3842-51. (FC)
12. Jacobsen J, Haabeth OW, Tveita AA, Schjetne KW, Munthe LA, Bogen B. Naive idiotope-specific B and T cells collaborate efficiently in the absence of dendritic cells. J Immunol. 2014;192:4174-83. (FC)