Rat Anti-Mouse CD49e-AF488 (5H10.27)
Alexa Fluor® 488 Anti-Mouse CD49e antibody for use in flow cytometry and immunohistochemistry assays.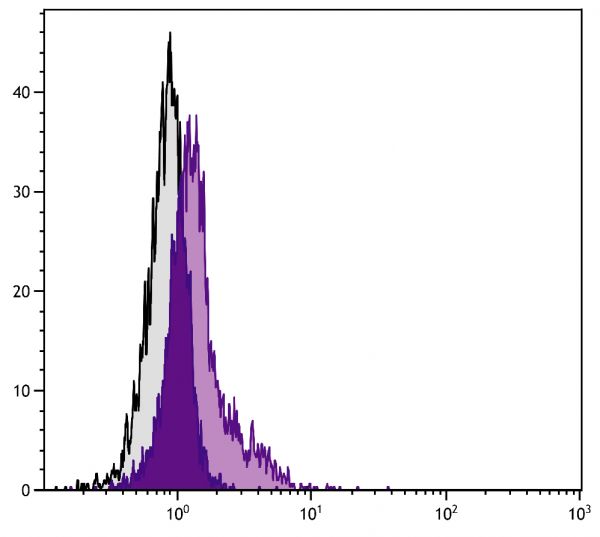 More Information
Clone
5H10.27
Isotype
Rat (Lewis) IgG2aκ
Isotype Control
Rat IgG2a-AF488 (KLH/G2a-1-1)
Specificity
Mouse CD49e
Alternative Names
Integrin α5, VLA-5α
Description
The monoclonal antibody 5H10.27 reacts with the α5 chain (VLA-5) of the CD49e/CD29 heterodimeric fibronectin receptor. It is expressed on thymocytes, activated T cells, mast cells, and a variety of mouse cell lines. Soluble 5H10.27 antibody inhibits VLA-5-mediated functions in vitro. Immobilized 5H10.27 has also been demonstrated to costimulate the proliferative response of CD8+ T cells to plate-bound anti-CD3 monoclonal antibody.
Immunogen
C57BL/6 x A/J F1 mouse mast cell line MC/9
Conjugate
AF488 (Alexa Fluor® 488)
Buffer Formulation
Phosphate buffered saline containing < 0.1% sodium azide
Clonality
Monoclonal
Concentration
0.5 mg/mL
Volume
0.2 mL
Recommended Storage
2-8°C; Avoid exposure to light
Trademark Information
Alexa Fluor® is a registered trademark of Thermo Fisher Scientific, Inc. or its subsidiaries
Applications
Flow Cytometry – Quality tested 1,2
Immunohistochemistry-Frozen Sections – Reported in literature 3
Blocking – Reported in literature 1,2
Costimulation – Reported in literature 2
Adhesion – Reported in literature 1,2


RRID Number
AB_2795149
Gene ID
16402 (Mouse)

Gene ID Symbol
Itga5 (Mouse)

Gene ID Aliases
Fnra; VLA5; Cd49e
UniProt ID
P11688 (Mouse)

UniProt Name
ITA5_MOUSE (Mouse)

Documentation
---
Certificate of Analysis Lookup
Enter the Catalog Number and Lot Number for the Certificate of Analysis you wish to view
Need help with this product?
1. Kinashi T, Springer TA. Adhesion molecules in hematopoietic cells. Blood Cells. 1994;20:25-44. (Immunogen, FC, Block, Adhesion)
2. Rich S, Van Nood N, Lee H. Role of α5β1 integrin in TGF-β1-costimulated CD8+ T cell growth and apoptosis. J Immunol. 1996;157:2916-23. (Costim, Block, Adhesion, FC)
3. Schmieder AH, Caruthers SD, Zhang H, Williams TA, Robertson JD, Wickline SA, et al. Three-dimensional MR mapping of angiogenesis with α5β1(αVβ3)-targeted theranostic nanoparticles in the MDA-MB-435 xenograft mouse model. FASEB J. 2008;22:4179-89. (IHC-FS)