Rat Anti-Mouse CD86-PE (GL1)
Only %1 left
Cat. No.:
1735-09L,
1735-09
PE Anti-Mouse CD86 antibody for use in flow cytometry assays.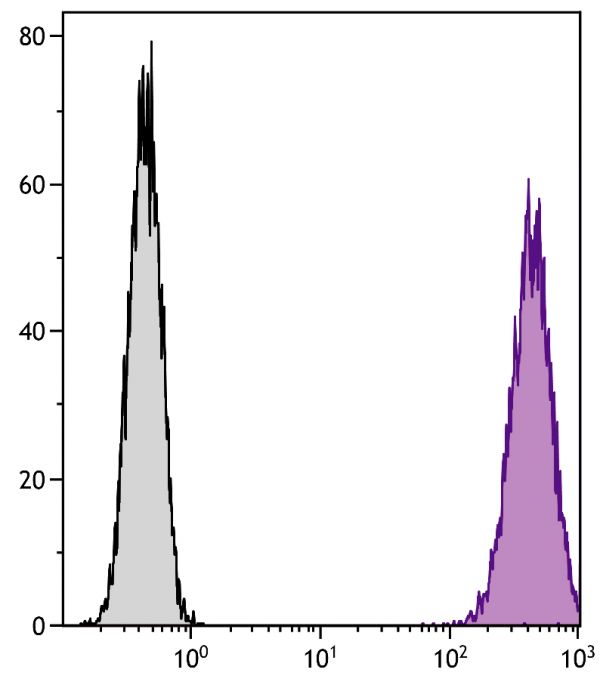 More Information
Clone
GL1
Isotype
Rat (LOU) IgG2aκ
Isotype Control
Rat IgG2a-PE (KLH/G2a-1-1)
Specificity
Mouse CD86
Alternative Names
B7-2, B70, Ly-58
Description
CD86, also known as B7-2, is a type I transmembrane glycoprotein and a member of the immunoglobulin superfamily of cell surface receptors. It is expressed at high levels on resting peripheral monocytes and dendritic cells and at very low density on resting B and T lymphocytes. CD86 expression is rapidly upregulated by B-cell specific stimuli with peak expression at 18-42 hours after stimulation. CD86, along with CD80 (B7-1), is an important accessory molecule in T cell costimulation via its interaction with CD28 and CD152 (CTLA-4). Since CD86 has rapid kinetics of induction, it is believed to be the major CD28 ligand expressed early in the immune response. The monoclonal antibody GL1 blocks mixed lymphocyte reactions and stimulation of T cells by antigen-presenting cells.
Immunogen
LPS-activated CBA/Ca mouse spleen B cells
Conjugate
PE (R-phycoerythrin)
Buffer Formulation
Phosphate buffered saline containing < 0.1% sodium azide and a stabilizer
Clonality
Monoclonal
Concentration
0.1 mg/mL
Volume
1.0 mL or 2.0 mL
Recommended Storage
2-8°C; Avoid exposure to light; Do not freeze
Applications
Flow Cytometry – Quality tested 1,3-13
Immunohistochemistry-Frozen Sections – Reported in literature 4
Immunoprecipitation – Reported in literature 1
Blocking – Reported in literature 1,3,4


RRID Number
AB_2795214
Gene ID
12524 (Mouse)

Gene ID Symbol
Cd86 (Mouse)

Gene ID Aliases
B7; B70; MB7; B7-2; B7.2; CLS1; Ly58; ETC-1; Ly-58; MB7-2; Cd28l2; TS/A-2
UniProt ID
P42082 (Mouse)

UniProt Name
CD86_MOUSE (Mouse)

Documentation
---
Certificate of Analysis Lookup
Enter the Catalog Number and Lot Number for the Certificate of Analysis you wish to view
Need help with this product?
1. Hathcock KS, Laszlo G, Dickler HB, Bradshaw J, Linsley P, Hodes RJ. Identification of an alternative CTLA-4 ligand costimulatory for T cell activation. Science. 1993;262:905-7. (Immunogen, IP, FC, Block)
2. Laszlo G, Hathcock KS, Dickler HB, Hodes RJ. Characterization of a novel cell-surface molecule expressed on subpopulations of activated T and B cells. J Immunol. 1993;150:5252-62. (Immunogen)
3. Hathcock KS, Laszlo G, Pucillo C, Linsley P, Hodes RJ. Comparative analysis of B7-1 and B7-2 costimulatory ligands: expression and function. J Exp Med. 1994;180:631-40. (FC, Block)
4. Inaba K, Witmer-Pack M, Inaba M, Hathcock KS, Sakuta H, Azuma M, et al. The tissue distribution of the B7-2 costimulator in mice: abundant expression on dendritic cells in situ and during maturation in vitro. J Exp Med. 1994;180:1849-60. (FC, Block, IHC-FS)
5. Cheng X, Wang C, Qian G, Zhu B. CD80, but not CD86 were up-regulated on the spleen-derived dendritic cells from OVA-sensitized and challenged BALB/c mice. Immunol Lett. 2003;89:31-38. (FC)
6. Choi K, Kim J, Lee Y, Kim J, Suh B, Kim H, et al. Concurrent delivery of GM-CSF and B7-1 using an oncolytic adenovirus elicits potent antitumor effect. Gene Ther. 2006;13:1010-20. (FC)
7. Lee Y, Kim J, Choi K, Choi I, Kim H, Cho S, et al. Enhanced antitumor effect of oncolytic adenovirus expressing interleukin-12 and B7-1 in an immunocompetent murine model. Clin Cancer Res. 2006;12:5859-68. (FC)
8. Zaru R, Mollahan P, Watts C. 3-phosphoinositide-dependent kinase 1 deficiency perturbs toll-like receptor signaling events and actin cytoskeleton dynamics in dendritic cells. J Biol Chem. 2008;283:929-39. (FC)
9. Fink LN, Frøkiær H. Dendritic cells from Peyer's patches and mesenteric lymph nodes differ from spleen dendritic cells in their response to commensal gut bacteria. Scand J Immunol. 2008;68:270-9. (FC)
10. Wang Y, Bai C, Wang G, Wang D, Cheng X, Huang J, et al. Protection against the allergic airway inflammation depends on the modulation of spleen dendritic cell function and induction of regulatory T cells in mice. Genet Vaccines Ther. 2010;8:2. (FC)
11. Jacobsen JT, Lunde E, Sundvold-Gjerstad V, Munthe LA, Bogen B. The cellular mechanism by which complementary Id+ and anti-Id antibodies communicate: T cells integrated into idiotypic regulation. Immunol Cell Biol. 2010;88:515-22. (FC)
12. Wismar R, Brix S, Lærke HN, Frøkiær H. Comparative analysis of a large panel of non-starch polysaccharides reveals structures with selective regulatory properties in dendritic cells. Mol Nutr Food Res. 2011;55:443-54. (FC)
13. Li J, Liu Y, Gao X, Gao X, Cai H. TLR2 and TLR4 signaling pathways are required for recombinant Brucella abortus BCSP31-induced cytokine production, functional upregulation of mouse macrophages, and the Th1 immune response in vivo and in vitro. Cell Mol Immunol. 2014;11:477-94. (FC)