Rat Anti-Mouse CD90-UNLB (G7)
Purified Anti-Mouse CD90 antibody for use in flow cytometry, immunohistochemistry, immunoprecipitation, stimulation, activation, and apoptosis assays.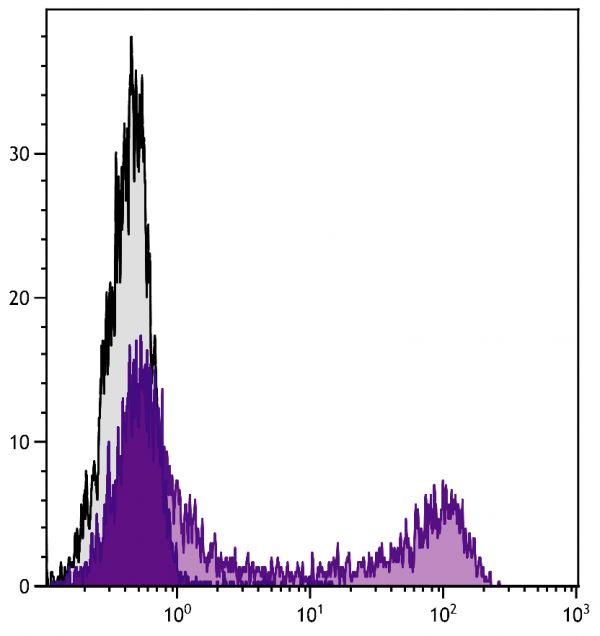 More Information
Clone
G7
Isotype
Rat (Lewis) IgG2cκ
Isotype Control
Rat IgG2c-UNLB (SB68b)
Specificity
Mouse CD90 (Thy-1.1 and Thy1.2 alloantigens/CD90.1 and CD90.2)
Alternative Names
Thy-1
Description
CD90 (Thy-1), a GPI-anchored molecule and one of the smallest members of the immunoglobulin superfamily of cell surface receptors, consists of a single V-set domain. It is expressed on thymocytes, peripheral T lymphocytes, some intraepithelial T lymphocytes, and neurons of all mouse strains. The monoclonal antibody G7 stimulates T-cell proliferation and IL-2 secretion via signaling through the T-cell receptor/CD3 complex. G7 has also been reported to promote apoptosis of thymocytes and CTL clones and to mediate adhesion of thymocytes to thymic stroma.
Immunogen
Mouse T cell hybridoma C6/G8
Conjugate
UNLB (Unconjugated)
Buffer Formulation
Borate buffered saline, pH 8.2
Clonality
Monoclonal
Concentration
0.5 mg/mL
Volume
1.0 mL
Recommended Storage
2-8°C
Applications
Flow Cytometry – Quality tested 1,6-8
Immunohistochemistry-Paraffin Sections – Reported in literature 4
Immunoprecipitation – Reported in literature 1
Stimulation – Reported in literature 1
Activation – Reported in literature 1,5
Apoptosis – Reported in literature 2,3


RRID Number
AB_2795223
Gene ID
21838 (Mouse)

Gene ID Symbol
Thy1 (Mouse)

Gene ID Aliases
T25; CD90; Thy-1; Thy1.1; Thy1.2; Thy-1.2
UniProt ID
P01831 (Mouse)

UniProt Name
THY1_MOUSE (Mouse)

Documentation
---
Certificate of Analysis Lookup
Enter the Catalog Number and Lot Number for the Certificate of Analysis you wish to view
Need help with this product?
1. Gunter KC, Malek TR, Shevach EM. T cell-activating properties of an anti-Thy-1 monoclonal antibody. Possible analogy to OKT3/Leu-4. J Exp Med. 1984;159:716-30. (Immunogen, FC, IP, Stim, Activ)
2. Ucker DS, Meyers J, Obermiller PS. Activation-driven T cell death. II. Quantitative differences alone distinguish stimuli triggering nontransformed T cell proliferation or death. J Immunol. 1992;149:1583-92. (Apop)
3. Hueber A, Raposo G, Pierres M, He H. Thy-1 triggers mouse thymocyte apoptosis through a bcl-2-resistant mechanism. J Exp Med. 1994;179:785-96. (Apop)
4. Whiteland JL, Nicholls SM, Shimeld C, Easty DL, Williams NA, Hill TJ. Immunohistochemical detection of T-cell subsets and other leukocytes in paraffin-embedded rat and mouse tissues with monoclonal antibodies. J Histochem Cytochem. 1995;43:313-20. (IHC-PS)
5. Kojima H, Toda M, Sitkovsky MV. Comparison of Fas- versus perforin-mediated pathways of cytotoxicity in TCR- and Thy-1-activated murine T cells. Int Immunol. 2000;12:365-74. (Activ)
6. Kucic T, Copland IB, Cuerquis J, Coutu DL, Chalifour LE, Gagnon RF, et al. Mesenchymal stromal cells genetically engineered to overexpress IGF-I enhance cell-based gene therapy of renal failure-induced anemia. Am J Physiol Renal Physiol. 2008;295:F488-96. (FC)
7. Eliopoulos N, Stagg J, Lejeune L, Pommey S, Galipeau J. Allogeneic marrow stromal cells are immune rejected by MHC class I- and class II-mismatched recipient mice. Blood. 2005;106:4057-65. (FC)
8. Xiao J, Angsana J, Wen J, Smith SV, Park PW, Ford ML, et al. Syndecan-1 displays a protective role in aortic aneurysm formation by modulating T cell-mediated responses. Arterioscler Thromb Vasc Biol. 2012;32:386-96. (FC)