Hamster Anti-Mouse CD28-UNLB (PV-1)
Purified Anti-Mouse CD28 antibody for use in flow cytometry, immunoprecipitation, costimulation, and stimulation assays.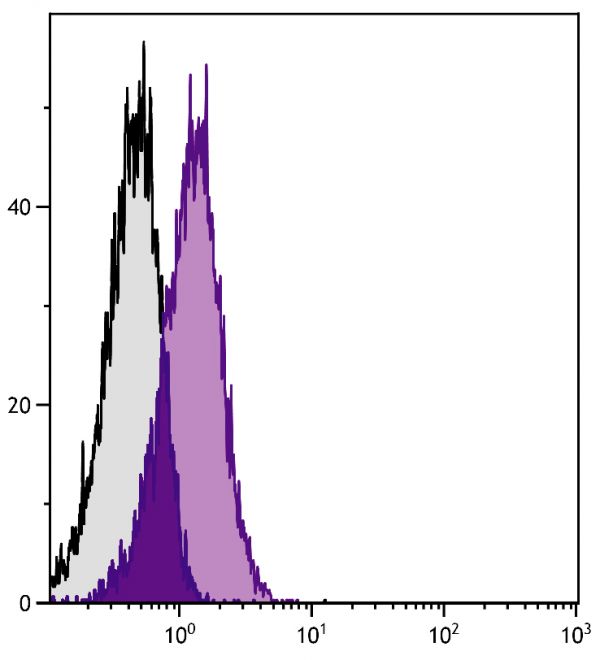 More Information
Clone
PV-1
Isotype
Hamster (Armenian) IgG2
Isotype Control
Hamster IgG-UNLB
Specificity
Mouse CD28
Alternative Names
Tp44, T44
Description
CD28 is a type I disulfide-linked homodimer that is constitutively expressed on most thymocytes, at low density on nearly all CD4+ and CD8+ peripheral T lymphocytes and at very low levels on NK cells. Its expression is upregulated upon T-cell activation. CD28 is a ligand for CD80 (B7-1) and CD86 (B7-2) on B cells and other antigen presenting cells and plays an important role in the interaction between T cells and B cells. CD28 is a costimulatory receptor involved in many, but not all, T-cell independent immune responses.
Immunogen
C57BL/6N mouse T cell lymphoma EL4 cell line
Conjugate
UNLB (Unconjugated)
Buffer Formulation
Borate buffered saline, pH 8.2
Clonality
Monoclonal
Concentration
0.5 mg/mL
Volume
1.0 mL
Recommended Storage
2-8°C
Applications
Flow Cytometry – Quality tested 1,6
Immunoprecipitation – Reported in literature 1,2
Costimulation – Reported in literature 1,3,4
Stimulation – Reported in literature 5


RRID Number
AB_2795029
Gene ID
12487 (Mouse)

Gene ID Symbol
Cd28 (Mouse)

UniProt ID
P31041 (Mouse)

UniProt Name
CD28_MOUSE (Mouse)

Documentation
---
Certificate of Analysis Lookup
Enter the Catalog Number and Lot Number for the Certificate of Analysis you wish to view
Need help with this product?
1. Abe R, Vandenberghe P, Craighead N, Smoot DS, Lee KP, June CH. Distinct signal transduction in mouse CD4+ and CD8+ splenic T cells after CD28 receptor ligation. J Immuno. 1995;154:985-97. (Immunogen, FC, IP, Costim)
2. Dodson LF, Boomer JS, Deppong CM, Shah DD, Sim J, Bricker TL, et al. Targeted knock-in mice expressing mutations of CD28 reveal an essential pathway for costimulation. Mol Cell Biol. 2009;29:3710-21. (IP)
3. Kanzaki M, Wada J, Sugiyama K, Nakatsuka A, Teshigawara S, Murakami K, et al. Galectin-9 and T cell immunoglobulin mucin-3 pathway is a therapeutic target for type 1 diabetes. Endocrinology. 2012;153:612-20. (Costim)
4. Tomimori Y, Tanaka Y, Goto M, Fukuda Y. Repeated topical challenge with chemical antigen elicits sustained dermatitis in NC/Nga mice in specific-pathogen-free condition. J Invest Dermatol. 2005;124:119-24. (Costim)
5. Zhang T, Fresnay S, Welty E, Sangrampurkar N, Rybak E, Zhou H, et al. Selective CD28 blockade attenuates acute and chronic rejection of murine cardiac allografts in a CTLA-4-dependent manner. Am J Transplant. 2011;11:1599-1609. (Stim)
6. Jacobsen J, Haabeth OW, Tveita AA, Schjetne KW, Munthe LA, Bogen B. Naive idiotope-specific B and T cells collaborate efficiently in the absence of dendritic cells. J Immunol. 2014;192:4174-83. (FC)