Rat Anti-Mouse CD62L-PE/CY7 (MEL-14)
PE/CY7 Anti-Mouse CD62L antibody for use in flow cytometry assays.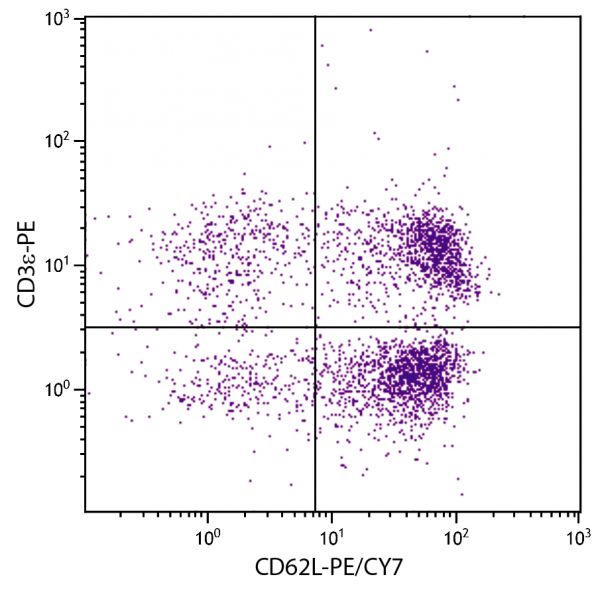 More Information
Clone
MEL-14
Isotype
Rat (Fischer) IgG2aκ
Isotype Control
Rat IgG2a-PE/CY7 (KLH/G2a-1-1)
Specificity
Mouse CD62L
Alternative Names
L-selectin, LECAM-1, LAM-1, Ly-22, Sell, Lnhr, Lyam-1
Description
CD62L, also known as L-selectin, is a type I transmembrane glycoprotein with lectin-like and epidermal growth factor-like domains. It binds to sialylated oligosaccharide determinants on high endothelial venules (HEV) in peripheral lymph nodes. In the mouse, CD62L is expressed on most thymocytes and on peripheral leukocytes, including B and T lymphocytes, neutrophils, monocytes, and eosinophils. This member of the selectin family of cell adhesion molecules appears to be required for lymphocyte homing to peripheral lymph nodes and for leukocyte extravasation at sites of inflammation. Expression of CD62L on lymphocytes and neutrophils is rapidly down-regulated upon cell activation and the level of CD62L expression, along with other markers, distinguishes naive T cells from effector/memory T cells. The monoclonal antibody MEL-14 blocks in vitro binding of lymphocytes to peripheral lymph node HEV and inhibits in vivo lymphocyte extravasation into peripheral lymph nodes and the late stages of leukocyte rolling.
Immunogen
C3H/eb cloned mouse B cell lymphoma 38C-13
Conjugate
PE/CY7 (R-phycoerythrin/Cyanine 7)
Buffer Formulation
Phosphate buffered saline containing < 0.1% sodium azide and a stabilizer
Clonality
Monoclonal
Concentration
0.1 mg/mL
Volume
1.0 mL
Recommended Storage
2-8°C; Avoid exposure to light; Do not freeze
Trademark Information
Cy® is a registered trademark of Global Life Sciences Solutions Germany GmbH
Applications
Flow Cytometry – Quality tested 1-4,7-10
Immunohistochemistry-Frozen Sections – Reported in literature 2,3
Immunoprecipitation – Reported in literature 1,4
Blocking – Reported in literature 1,4,6
Cytoxicity – Reported in literature 5


RRID Number
AB_2795169
Gene ID
20343 (Mouse)

Gene ID Symbol
Sell (Mouse)

Gene ID Aliases
Lnhr; CD62L; Ly-22; Lyam1; Ly-m22; Lyam-1; LECAM-1; AI528707; L-selectin
UniProt ID
P18337 (Mouse)

UniProt Name
LYAM1_MOUSE (Mouse)

Documentation
---
Certificate of Analysis Lookup
Enter the Catalog Number and Lot Number for the Certificate of Analysis you wish to view
Need help with this product?
1. Gallatin WM, Weissman IL, Butcher EC. A cell-surface molecule involved in organ-specific homing of lymphocytes. Nature. 1983;304:30-4. (Immunogen, FC, IP, Block)
2. Reichert RA, Gallatin WM, Butcher EC, Weissman IL. A homing receptor-bearing cortical thymocyte subset: implications for thymus cell migration and the nature of cortisone-resistant thymocytes. Cell. 1984;38:89-99. (IHC-FS, FC)
3. Reichert RA, Jerabek L, Gallatin WM, Butcher EC, Weissman IL. Ontogeny of lymphocyte homing receptor expression in the mouse thymus. J Immunol. 1986;136:3535-42. (IHC-FS, FC)
4. Lewinsohn DM, Bargatze RF, Butcher EC. Leukocyte-endothelial cell recognition: evidence of a common molecular mechanism shared by neutrophils, lymphocytes, and other leukocytes. J Immunol. 1987;138:4313-21. (FC, IP, Block)
5. Seth A, Gote L, Nagarkatti M, Nagarkatti PS. T-cell-receptor-independent activation of cytolytic activity of cytotoxic T lymphocytes mediated through CD44 and gp90MEL-14. Proc Natl Acad Sci USA. 1991;88:7877-81. (Cyto)
6. Takedachi M, Qu D, Ebisuno Y, Oohara H, Joachims ML, McGee ST, et al. CD73-generated adenosine restricts lymphocyte migration into draining lymph nodes. J Immunol. 2008;180:6288-96. (Block)
7. Diamant E, Keren Z, Melamed D. CD19 regulates positive selection and maturation in B lymphopoiesis: lack of CD19 imposes developmental arrest of immature B cells and consequential stimulation of receptor editing. Blood. 2005;105:3247-54. (FC)
8. Duchesneau P, Gallagher E, Walcheck B, Waddell TK. Up-regulation of leukocyte CXCR4 expression by sulfatide: an L-selectin-dependent pathway on CD4+ T cells. Eur J Immunol. 2007;37:2949-60. (FC)
9. Bradfield PF, Scheiermann C, Nourshargh S, Ody C, Luscinskas FW, Rainger GE, et al. JAM-C regulates unidirectional monocyte transendothelial migration in inflammation. Blood. 2007;110:2545-55. (FC)
10. Berge T, Grønningsæter IH, Lorvik KB, Abrahamsen G, Granum S, Sundvold-Gjerstad V, et al. SH2D2A modulates T cell mediated protection to a B cell derived tumor in transgenic mice. PLoS One. 2012;7(10):e48239. (FC)